YG Entertainment has stated recently in the past that a new idol girl group is in the works and will most likely debut sometime in 2018.
While at first thought it may sound like exciting news for K-Pop fans, it is currently generating some negative responses, especially from the fans of BLACKPINK. But of course, nothing is confirmed at the moment. The reason why BLACKPINK fans can rest assured is because of previous debut records of YG artists. After 2NE1, it wasn't until 2016 that YG Entertainment actually delivered a new girl group, after repeatedly announcing a new girl group in the works over the years.
After hearing the announcement back in November 2017, South Korean K-Pop fans have defined the characteristics of all three major K-Pop entertainment agencies, YG, SM, and JYP, in the following descriptions below.
SM Entertainment to K-Pop Fans: "We don't know what you guys will like so we basically just prepared everything possible."
Park JinYoung of JYP Entertainment to K-Pop Fans: " I don't know what you guys will like so...here I am! "
Yang HyunSuk of YG Entertainment to K-Pop Fans: " I don't know what you guys will like so I decided to listen to myself and make idols for myself."
They are somewhat accurate representations of each respective entertainment agencies. SM Entertainment never fails to please fans with their non-stop releases of new music and contents. JYP Entertainment cleverly uses head producer and founder Park JinYoung well with their superstar idols such as GOT7 and TWICE. But what about YG Entertainment? Sure they have some of the biggest K-Pop idols that South Korea has such as Big Bang, BLACKPINK, PSY, and WINNER. But the amount of new music and contents they are releasing is far below the amount of JYP and SM. 
Additionally, the fact that BLACKPINK commands an extremely large fanbase and popularity in K-Pop is astonishing if you consider the given facts. BLACKPINK barely has five songs released even after a year since their debut. No official full-length album and no mini-albums either. 
Hopefully, YG Entertainment won't be abandoning their current idol stars in order to focus on the launching of the new girl group. 
Must Read : Proof That G-Dragon Reps Women's Clothing Better Than Women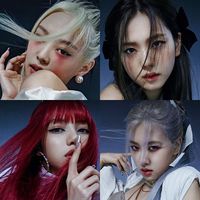 Became a fan of BLACKPINK
You can now view more their stories