"My Strange Hero" also called "Revenge is Back" just started and already interest many.
It is romantic comedy drama that tells the story of BokSoo that was unfairly expelled from his high school because he was accused of being a school bully. When he is an adult, he plans to get revenge by going back to the school. However, it did not go as planned. He starts to get in trouble again and get linked to love again. Yoo SeungHo, Jo BoAh, and Kwak DongYeon are main actors of this drama. For more information and picture about the drama, you can check our cast and summary here.
This article has spoiler up until episode 4 or episode 2 on a 70 min format.
The drama started with funny and romantic scenes. Yoo SeungHo as BokSoo opens the drama handsomely and with fun.
However, the sad past of Yoo SeungHo is revealed to the viewers. In high school, he was wrongly accused of pushing Kwak DongYeon as Oh SeHo from the rooftop of the school when he actually helped him from his suicide jump (?). Kwak DongYeon's woke up from his fall and accused Yoo SeungHo of pushing him and that is not all, his first love Jo BoAh as Son SooJung gave the testimony that she saw Yoo SeungHo pushing him.
In the end, Yoo SeungHo was kicked out of high school. As an adult without a high school diploma and with this background, he struggles to have a stable job. He also has a trauma due to this event. 
After some events, the school decided that they will welcome him back after all these years. At first, he was against the idea but he changed his mind.
At the end of the episode 4, he is entering the school field with the uniform with a runway with a fierce and battleground-like music. Yoo SeungHo is all ready to take his revenge on the people that cause his live's misery: contract teacher Jo BoAh and the director of the school Kwak DongYeon.
With one hand in his pocket, moving hairstyle, and determined face, he walked straight.
Jo BoAh watching from above got shocked by his appearance.
With his swag and handsomeness, Yoo SeungHo is rocking the end of the episode and let the viewers curious about his revenge and love relationship future.
For more detail make sure to watch the show. Have you started the drama?
Read More : Actor Yoo SeungHo Close Previous Instagram Account And Opens A Fresh New One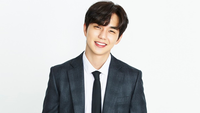 Became a fan of Yoo SeungHo
You can now view more their stories