If you have been a fan of Yoo SeungHo for a while you would know that his crying scenes are one of his best talents. If you are not yet well aware of the actor, you might fall for him after watching and learning more about him!
The actor is currently acting in the drama "My Strange Hero" also called "Revenge is Back with Jo BoAh and Kwak DongYeon. It is a romantic comedy but the plot has some darkness. Especially the unfairness of his character's expulsion from high school as well as the 'betrayal' of his first love make his character wounded and with touching scenes.
Here are some of the best tearing/crying scenes of Yoo SeungHo in the drama up to now. It can be just simple wet eyes to a full crying scene.
SBS also made a compilation of the actor's crying scene.
#복수가돌아왔다 2018년 마지막 날이 아쉬워서 우는 눈물..?은 아니고 우는게 예뻐서 너무 울리고 싶은 우리 복수의 눈물 모음! 오늘(31일, 월)은 아쉽게도 결방이지만 내일(1일, 화)은 본.방.사.수!!! pic.twitter.com/VJXumjWHyX

— SBS (@SBSNOW) December 31, 2018
Victims of his acting usually describe their situation as follow, their "hearts are hurt and in pain by the actor's eyes".
International netizens commented on the actor's acting and many are touched by his acting. Some also wonder how he can look as handsome while crying.
But that is not all, the actor's eyes also are perfect for romantic scenes too and give viewers heart fluttering moment with his cute smiling eyes.
Fellow actor Kwak DongYeon also mentioned being impressed by Yoo SeungHo's eyes and gaze.
Are you are a victim of the actor's acting and good looks?
Read More : Netizens Comment This Picture Of Yoo SeungHo And Jo BoAh On The Set Of "My Strange Hero"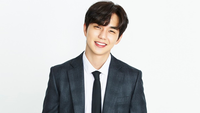 Became a fan of Yoo SeungHo
You can now view more their stories