Fans are people who love and support their idols. The sense of "making somebody an outcast" and "being a fan" don't seem to go together, rather they are almost contradicting to each other. 
 The rumor that Yook SungJae, the youngest member in BTOB, is being treated as an outcast by fans is going viral. The public well know of SungJae because he was in diverse dramas and TV shows. However, inside the fandom of the group, he does not seem to have such popularity, rather he looked as if he was disliked. It is said that some fans have in constantly ignoring him in fan meetings and official places. 
SungJae's reactions towards the fans seemed to make it quite clear that this has been going on for a while. According to a conversation he had with a fan in a recent fan meeting, the fan said "Thanks for letting me know BTOB, SungJae" and he answered with a bitter smile, "So, who do you like the most now? Probably ChangSeob huh?" Since SungJae is in charge of bringing in the fans, a lot of them leave him and start to like other members after they get into BTOB.
Also, when it was his turn to speak in the event, some fans cheered for other members in a very loud voice. He got quite mad at such attitude some fans showed, so he said "I'm not asking questions again." And a fan replied "Who wanted you to ask questions?" 
Here are more moments caught where fans ignored SungJae in his face.
170419 팝업3차팬싸

성재가 할말이 있다는데............. pic.twitter.com/L1ExLvK0EO

— 성재야💙비행 (@sungjaeya_bhang) April 27, 2017
170318 분당 팬싸인회 #비투비 #BTOB #육성재

😺삼이랑 페니랑 싸우면 누가이길까요?
😺페니가 이길라나? 싸움 붙여볼래?
😺뱅갈고양이가 되게 용맹한 종이래요
😺관심없죠? 칫 창섭이형이나 봐라😾

관심엄청많은데 성재야ㅠㅠ@BTOB_6SJ pic.twitter.com/rSdwowBd4a

— 성재야💙비행 (@sungjaeya_bhang) March 18, 2017
Ignoring a members of the group and making them an outcast is becoming a serious problem within fandom. Not only BTOB, but other groups as well, may suffer from such attitudes of fans. There is nothing wrong with having a bias member, however, showing disrespectful attitude towards a certain member is showing disrespect to the whole group. 
Fans of BTOB, especially fans of SungJae, are now very concerned and  are seeking for solutions.
Must Read : An Excessive Fan Posts a Death Threat to Mina of TWICE with a Warning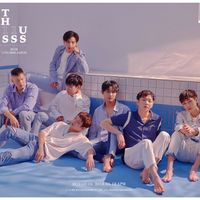 Became a fan of BTOB
You can now view more their stories