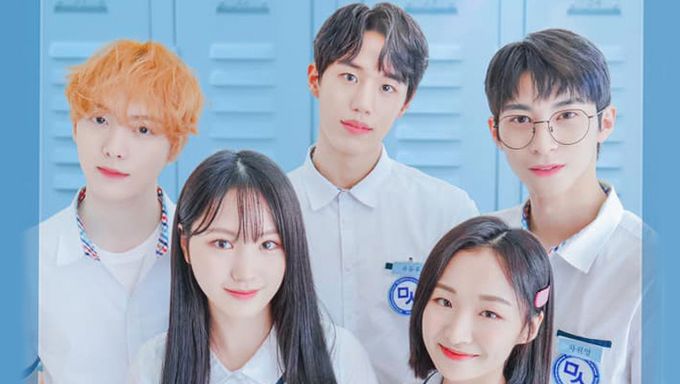 "Your Playlist" is a new concept music drama that depicts the story of a secret composer, the fans, and friendship. 
The leads in the drama are ASTRO's Yoon SanHa and DreamNote's SuMin. Han GiChan, Kim JiHoon, and Han Seoul will also play leads in the drama. 
ASTRO's Yoon SanHa first met fans as an actor in the web drama "Love Formula 11 PM" and received favorable reviews. A representative from Fantagio, ASTRO's agency, expressed, "SanHa will show various charms with a more mature image, so please look forward to it and support it."
DreamNote's SuMin first appeared in the web drama "Phantom The Secret Agent" and will continue to showcase her charm through this drama.
Former "Produce X 101" trainee Han GiChan, who made his acting debut in Korea's first BL "Where Your Eyes Linger", and rookie actors Kim JiHoon and Han Seoul ("Revolutionary Love") will also be appearing in the drama.
Here is more information.
Your Playlist (2021)
Information
Title: Your Playlist / Neoui Jaesaengmokrok / 너의 재생목록
Director: Kwak BongCheol
Writer: Wolpi Dong
Network: HelloLive
Runtime: From October 15
# of Episodes: 8
Genre: Youth Romance
Language: Korean
Summary
A "high-teen growth" drama that tells the story of a secret composer, fans, and friendship accompanied by music representing each episode through an online playlist.
Cast
ASTRO's Yoon SanHa as Big Daddy
A popular idol who is clever, friendly, and considered to be a "Power Insider". He is a new transfer student to Myungsung High School and falls head over heels for the class president, HaEun.
DreamNote's SuMin as HaEun
The class president and the target of Big Daddy's affection.
Han GiChan as Cha WonYoung
A sophomore at Myungsung High School who has a pure soul, a subtle sense of humor, and expresses more sincerity than anyone else. He exhibits a neat appearance but is clumsy. He portrays the image of youth while experiencing conflict with his best friend.
Kim JiHoon as Yu DongHoo
A sophomore at Myungsung High School. He is the only secret social media account follower of HaEun and always provides a selection of songs that warm her heart.
Han Seoul as Jo MinSok
She is part of the fan club of Big Daddy and she loves him a lot. She is doing everything to help him.
Teaser & Posters
Here is one of the teasers.
Here are the official posters.