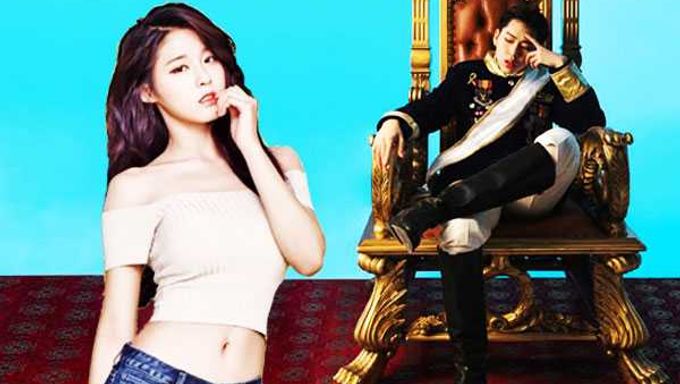 Netizens' eyes are caught at the dating rumor of ZICO, Block B, and Seolhyun, AOA.
The two hot idol stars' dating rumor has been risen for couple of days, and fans wonder whether the rumor is real or not. On the famous online portal site, each idol is located as the related search for one another; when you type Seolhyun, ZICO appears, and when type ZICO, Seolhyun appears on. Also the popular web page at Facebook, message like foretelling about the new couple, Seolhyun and ZICO, has brought up and got enormous interest from netizens. In addition to the facebook page, another doubts about the idol's relationship that netizens asserted similar postings are found at both stars' instagrams at famous online community.
Must Read : Dating Timeline of New K-Pop Couple AOA's SeolHyun & BLOCK B's Zico
As the rumor has got issued, one press reported dating rumor of Seolhyun and ZICO. However, it was only a suspicion, but no clear evidences supporting the idea. Netizens doubt if the press reported it for increasing number of views of its article because the press has brought up another dating rumor of ZICO with SISTAR's Hyorin, so the news has become less convincible.
Must Read : Idols' Ideal Types 2016 Compilation: AOA
When digging up the origin of the rumor, it is more illogical that the start was from ZICO's lyrics. One fan, assumed to be as his anti-fan, brought up the idea if his lyrics about girls' sexy body indicate Seolhyun. The assumption ZICO wrote a song about Seolhyun has gradually been snowballing and now it is risen as if the dating rumor is true.
Must Read : Deep Meanings Behind K-Pop Idols' Tattoos
Many fans appeal their own thoughts about the dating rumor, and some of them agree with it, but others hate the rumor. Especially, there are more number of comments supporting ZICO but degrading Seolhyun with opposing the rumor. Well, it seems like there are more fans loving ZICO than Seolhyun's The truth will be discovered and fake will be sunk down.
Must Read : 10 Alleged Proof That TaeYeon and G-Dragon Are Dating
Must Read : 8 K-Pop's Real Couples with the Best Visuals
-- Update August 10, 2016 --
Just a few minutes ago, Yonhap News reported that Seven Seasons and FNC Entertainment, the management labels for Zico and SeolHyun respectively have confirmed the two idols' relationship. The agencies have announced, they "became attached to and relied on each other while going through difficult times... We would appreciate it if the public and fans support the two stars". Check out the timeline of their dating history here!