Exclusive Interview: SF9's UNLIMITED Fantasy
SF9 Shares Upcoming USA · Europe Tour, NARCISSUS, And more
FNC Entertainment's boyband, SF9 is expecting to meet their fans starting this April through 2019 SF9 USA · EUROPE TOUR [UNLIMITED] and plans to perform all fans favorites plus more including their latest mini album, 'NARCISSUS'.

Through Kpopmap's exclusive interview, SF9 shared their thoughts on their 6th mini album, upcoming tour and other related stories.
The group recently wrapped their promotions for NARCISSUS successfully and Kpopmap asked what were some different points for this album compared to their previous albums. The leader of the group, YOUNG BIN answered, "Overall, we showed a stronger side of SF9 by putting more powerful choreography in our song, embedding more matured and sexier image. Music wise, we also felt that this was the album that solidified our identity. We're glad that all our fans appreciated this album and made the time and effort we have put in, worthwhile."
Since the album 'NARCISSUS' talks about self-love, we asked what each members' "self-loving" points were as a follow up.

YOUNG BIN "I would say, my hands and my tidy dance line."
IN SEONG "I think it's my attentive side!"
JAE YOON "peaceful and cozy personality?"
DA WON "My head shape."
RO WOON "My lips!"
ZU HO "I would say, my delicate characteristics which might be hard to catch since I appear as a bit strong."
TAE YANG "My allure I would say, is my eyes when I smile."
HWI YOUNG "I would go with my friendly personality."
CHA NI "I have a huge pupil!"
Surely, it has been awhile since they have met their international fans. When asked about how it feels to meet global FANTASY on april, JAE YOON answered, "It's our first concert tour so we are a bit nervous about it but we are overcoming that fear through intense practice and rehearsals. We are REALLY excited and thrilled to meet our fans and we just can't wait!"
As this was their second visit to USA, there must have been numerous things that changed from their last visit. ZU HO commented,"I think SF9 grew a lot both as a group, and as individuals. Our teamwork is a lot tighter and we had the experience of exploring deeper into our music. We would love to show those exciting changes to our fans through this tour."
YOUNG BIN
IN SEONG
JAE YOON
In addition, when asked what their most memorable moment was during their past international concerts and fan meetings, they answered that, "It was when the fans pulled out the slogan at the end of the concert. The words that were filled with enormous love moved us a lot. It was very touching."
Subsequently, Kpopmap wanted to know deeper side of SF9's tour. We asked who they shared rooms with during tours and if there were any funny episodes or habits each members have.

YOUNG BIN "My roommate is JAE YOON. He usually passes out as soon as he enters the room, I guess he was really exhausted haha!"
IN SEONG "It's DA WON. Every time we are on tour, he comes back to Korea with bag full of delicious snacks or deserts of that particular region or country."
JAE YOON "I share with YOUNG BIN. YOUNG BIN always walks around the room wearing hotel's bathrobe."
DA WON "IN SEONG is my roommate and he often orders room service for me."
RO WOON "I stay with CHA NI. Whenever we have free schedule the following day, we stay up late and chat. Now that he is legal to drink, I would like to grab a beer with him sometime."
ZU HO "I usually take the room all to myself or there are time when I would bunk with the manager! It's because I work on my music which can get a bit loud and I also have a bad sleeping habit."
TAE YANG "HWI YOUNG! He always sleeps with the lights on... HWI YOUNG, please turn off the lights!!!"
HWI YOUNG "TAE YANG is my roommate and we are both somewhat quiet in the room."
CHA NI "It's RO WOON. He often dozes off and falls asleep while he talks."
Kpopmap also asked what their "must pack" items were while they are on the road.

YOUNG BIN"I need my cologne!"
IN SEONG "I have to bring Korean instant noodles and canned foods. I often have them with DA WON for late night snacks."
JAE YOON "I pack my Bluetooth headphones so that I can listen to music freely whenever I want!"
DA WON "I bring my games so that I won't be bored during long flights."
RO WOON "I pack water. There were times where I had trouble adjusting to new environments and water from home helps me retain the best condition I need to be in before the show."
ZU HO "I take music equipment with me at all times so that I can work on my music. Plus, some snacks."
TAE YANG "In case of emergency, I take US dollars with me."
HWI YOUNG "For me it's face cleansing products, skin and lotion."
CHA NI "I bring lotion that suits for my face."
When you travel for a long period of time, it is utmost essential to keep your mind and body in good health and JAE YOON shared us what they do to maintain good condition during tours. "We really focus on keeping our physical in good condition. From the past experiences, we learned that having a good sleep unquestionably helps us perform well without getting easily tired. So we would rehearse as much as we can, and try to sleep as much as we can before the tour starts to maintain a good biorhythm."
TAE YANG
HWI YOUNG
CHA NI
Since this is their first big global tour, we asked them to answer in one word, what this tour represents to each members.

YOUNG BIN "I would say 'Thrill' or 'Overpowering'. Just by thinking of it gets me so excited!!"
IN SEONG "'Practice of Happiness' because seeing FANTASY is my happiness!"
JAE YOON "'Start'! I think this tour is another start for us. We are preparing to provide our fans the best experience in a short period of time."
DA WON "I know for sure that this will become a great memory for us so I would say 'Reminiscence'."
RO WOON "'Challenge' or perhaps 'Leap'? Not only will we show the brand new side of us to our fans but I also think that this tour will make us immensely grow as a group."
ZU HO "'New Challenge'! I'm a bit nervous as this is our first big concert tour."
TAE YANG "I want to say, 'UNLIMITED'. I feel like SF9 is capable of growing without limitation."
HWI YOUNG "'Chance' is the word I would go with. Through this tour, I hope we will be able to have more shows for our fans."
CHA NI "There are more exciting things to show to our fans from now on so I'm going to say 'Start'."
When asked if there is any special event that they have prepared for the tour, IN SEONG teased us by saying, "There are a lot of great songs around the globe right? Maybe we are going to preform one of those songs? That's all I have to say. If you are curious, come check our UNLIMITED tour! (haha)"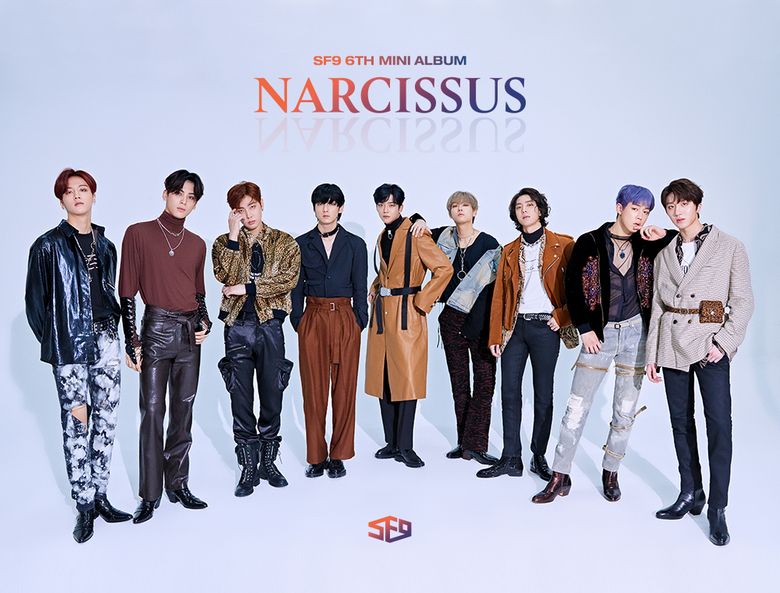 Lastly, the group wrapped our exclusive interview by saying a few words to their fans.
"Our beloved FANTASY! We may not see each other much but we know that we are connected in hearts. We thank you for always being with us and supporting us. We're going to see you soon in our UNLIMITED Tour so hang in just a bit more! 😄 We love you💓"
2019 SF9 USA. EUROPE TOUR [UNLIMITED] starts April 19th, so get your tickets if you haven't yet! Plus, did you know that there's an English version of SF9's latest song, 'Enough'? Check'em down below!