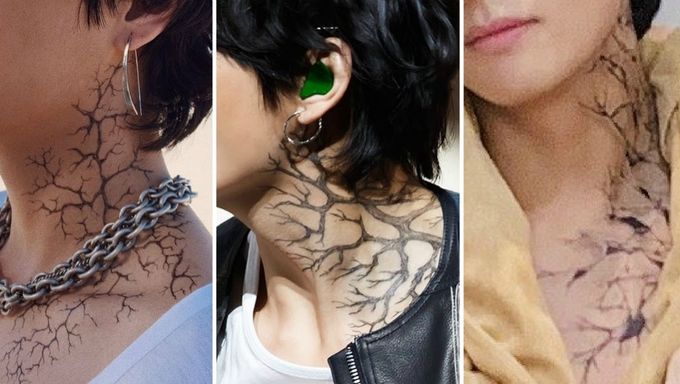 Hangeul or the Korean alphabet is now a worldwide fashionable item. The modernization of its design gave it a new breath and tattoo artists especially turned it into a fashion trend. Hangeul tattoos -real or fake- are definitely 'it' items among young Koreans, and the popularity is spreading out of Korea.
Korea is unique, such as is its alphabet. Many experts recognized it as an exceptional language as it was scientifically created reproducing the position of the tongue and lips. In the past, the Korean alphabet used to have quite an old and stick form, in other words … very boring and simple! Overtime, the alphabet's design gradually became aesthetically appealing.
 Goods with Hangeul
Its image has been redefined to fit today's trend. Consequently, it is now gaining more international and national interest. Korean cultural goods started showing more Hangeul, following its new makeover, therefore the alphabet can be found in various sectors such as the fine arts, urban art, fashion, architecture, etc. Public figures, Korean or not, started to wear patterned outfits or items with the alphabet.
Hangeul Fashion
Among internationally famous Korean designers, Lie SangBong is well known to utilize the Hangeul alphabets in his design. Not only is the alphabet customized in high fashion or designer wear, but it is also used widely in everyday fashion. NOHANT did a collaboration with Yoo AhIn on their design, for their sub-label "New Kidz". He showed it once more with the design of those tee-shirts: a list of several major capital cities of the world written by using a mixture of the Hangeul and Roman alphabet.
Hangeul Tattoo
Adding to the clothing trend, interest Hangeul tattoos recently started to gain momentum in Korea and a little overseas. We all know about Chinese or Japanese characters tattoos, well … now be ready for more and more Korean tattoos!
The trend, for young men and women, is the small and fine-lines tattoos that seem lovely and delicate. Those florals and 'simple' tattoos match well with the use of Hangeul. Not every Korean get tattoos but as the trend grows many choose to use sticker tattoos as they are undoubtedly pretty and very convenient to change according to your mood or clothing style of the day. K-Pop idols too for photo album jackets or for concerts apply those.
Idol stars such as BLOCK B's ZICO or former Girl's Generation's Tiffany show their love for the alphabet. The leader of BLOCK B has a tattoo of King SeJong on his arm, he said that he has much admiration for the king that created Hangeul. Tiffany shows her love with the tattoo on her foot, you can read in Korean "now always and forever".
Hangeul Tattoos Sticker
It might be hard for overseas fans to get access to those made in Korea tattoos and especially hard to meet Korean tattoo artists. Following the interest in the trend and the popularity among celebrities of those Hangeul tattoos, Kpopmap wanted to offer an easier possibility to people living abroad and having interest in those tattoos to enjoy those designs and that with translations!
Those flowery patterns suit the Korean alphabet in its simple or in its calligraphic style like here in the tattoos.
In Korea, those everyday words can be found a bit everywhere, especially on students' wrists or notes. It is the peculiarity of Korean words, might not sound poetic or funny in English translation but it is in Korean! If you watch Korean shows, you might have heard of 멘붕 or mental breakdown, it is very common for idols to use it or you might as well know ㅋㅋㅋㅋㅋ also commonly used in TV shows to express laughter.
At the difference of Chinese or Japanese characters, Hangeul is an alphabet. You have all the letters here, you can write absolutely all the Korean words or names with it! You just have to match the puzzle of your favorites Korean celebrities name or word!
Read More : Korean Fashion Finds: 5 Stylish K-Pop Idol Merchandises