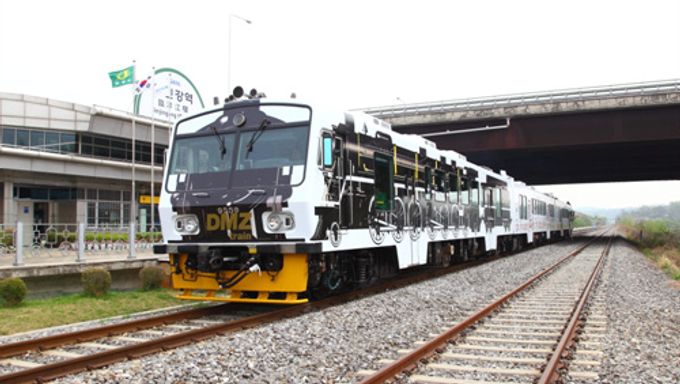 Introduction
With aims to overcome history and focus on the greatness of nature and life, the DMZ train consists of three cabins each designed with themes of peace, love, and harmony. The train offers seats with great views of the outside, a cafe, photo zones, a photo gallery and many other amenities. Passengers can enjoy great scenic views on the DMZ train as it passes by the renowned Imjingang Railroad Bridge.
Address: 
55, Hangang-daero 23-gil, Yongsan-gu, Seoul[Google Map]
Closed: 
[Gyeongui Line DMZ train] Every Monday & Public Holidays
[Gyeongwon Line DMZ train] Every Tuesday
Homepage: 
www.letskorail.com (Korean, English, Japanese, Chinese)
How To Use
Parking Facilities: 
Available (please use parking lot at Seoul Station)
Transportation
DMZ train departs from Yongsan Station (Seoul Subway Line 1 & Gyeongui Jungang Line) and Seoul Station (Seoul Subway Line 1, 4, & AREX).
Please refer to the website for more details.
Additional Info
Tour Course Information: 
[Peace Train DMZ Course - Dorasan Peace Tour]
10:08-11:20 / Depart Yongsan Station -> Arrive at Imjingang Station
11:24-11:39 / Security check
11:39-11:43 / Imjingang Station -> Dorasan Station
12:10-12:50 / Dorasan Peace Park
13:00-13:50 / Lunch
14:00-14:30 / Dora Observatory
14:40-15:40 / The 3rd Tunnel
15:50-16:37 / Tour of the Unification Platform
16:27-17:54 / Dorasan Station -> Yongsan Station
Shopping Information: 
[DMZ Train Cafe]
Sale of food and DMZ-related souvenirs inside the train
Facility Utilization Fees: 
* DMZ Train fare information is available on the Korail website.
Restrooms: 
Available
Interpretation Services Offered: 
Not Available
Reservation Info. for Natives: 
Reservations via phone or homepage available.
Reservation Info. for Foreigners: 
Reservations via phone or homepage available.
tel: +82-1544-7788
zipcode: 04377
accomcount: 150 people
expagerange: Open to visitors of all ages
infocenter: • 1330 Travel Hotline: +82-2-1330
(Korean, English, Japanese, Chinese)
• For more info: +82-1544-7788
opendate: [Gyeongui Line DMZ train] May 4, 2014
[Gyeongwon Line DMZ train] August 1, 2014
usetime: Please refer to the website for the train timetables