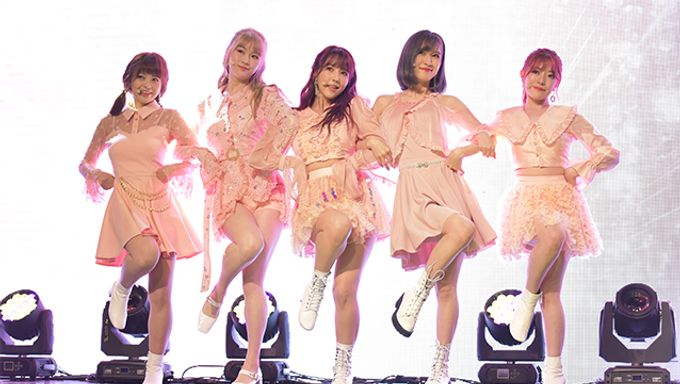 As soon as she first encountered, a former member of SKE48(Japanese idol group), Mikami Yua  was hooked into K-Pop and the Korean culture. With that dream, she came to Korea and endeavored to achieve the dream of making herself becoming part of the culture.
Previously, she had the taste of it for the first time when she debuted with two other Japanese members in a group called 'HONEY POPCORN ' on March 2018. It could've been a tough road for the group as each held unique stories to their life as a K-Pop idol. But, they had a common goal and they embraced every moment of it.
Today, in almost a year and a half, with the lessons and experiences they have retrieved from the past made a comeback with their 2nd album, "De-aeseohsta".
The group went through a major makeover by adding 3 new members(Nako, Ruka, and Sara) alongside with Yua and Moko to 'Honey Popcorn'.
To stimulate Kpopmap's curiosity, we have attended and covered their comeback showcase and here are some of the things that we wanted to share from it.
The album consists of 3 songs including, "De-aeseohsta", 바보야(aka. You Dummy) and "Violet".
The title track, "De-aeseohsta" is produced with a generous amount of synthesizer and yet, with the girls' vocals, it gives somewhat of a warm feeling to it. The song is refreshing and citrusy. It contains a message, saying 'leave what's in the past in the past and be courageous and love myself'.
The performance itself had a lot of bright energy to it, giving a very cutesy feeling to the viewers. This gives you somewhat of a nostalgic feeling in a way because the majority of K-Pop sounds nowadays are heavily focused on beats and edgy sounds. However, this song felt like it was going back to the basics of an idol song.
A group of 5 Japanese girls coming all the way to Korea to become a K-pop idol must've been a great challenge in so many ways. During the interview, the member's shared why they gladly accepted this challenge by who inspired them to be in the industry such as SNSD, GFriend, and TWICE .
For the leader Yua and the original member Moko, this is their second album and when asked how this album wants to be perceived, Yua commented, "With my occupation in Japan, I know there was a lot of negative opinion about it but however, all 5 of us are purely passionate about becoming a K-pop idol. I know there are long ways to go including our Korean skills but we want to and we will work harder to be better in what we do. I hope through this album, people would give more positive perspective to the listeners and viewers."
Like what Yua has said, they may still have long ways to go to where they want to be, but with the passion and pure love for K-Pop, their journey can be more meaningful and successful and eventually arrive at their destination.
Check out their latest release, "De-aeseohsta" and comment your thoughts below!
Read More : Exclusive Photos : Honey Popcorn 2nd Mini Album "De-aeseohsta" Showcase
Became a fan of HONEY POPCORN
You can now view more their stories