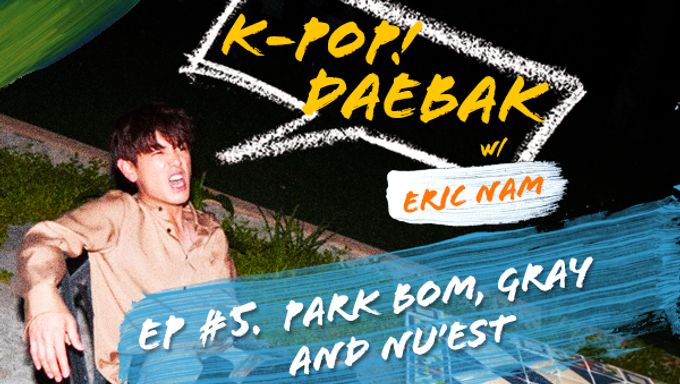 Eric is back with his 5th episode of the podcast and he shared his hectic schedule as he was preparing for his single "Runaway" during this time and how he almost lost his voice due to that! Luckily, he's alright and sat down to record the podcast for us 'Daebak show' listeners!
First artist for this episode is PARK BOM, the former 2NE1 main vocalist, with '4:44' featuring MAMAMOO 's WheeIn . For those who are new to K-Pop, Eric kindly explains who Park Bom and 2NE1 is.
2NE1 was one of the biggest K-Pop girl group in the industry. They have worked with Will.i.am from Balck Eyed Peas, their music was featured in Apple commercials and so forth. The reason why this is huge is that these were something that happened all before K-Pop became a global phenomenon that we see today.
Eric continues with introducing some of the numerous achievements 2NE1 made in the past and said that their songs are timeless and very relevant to today's music(So if you don't know them, Eric highly recommends to check 2NE1 out!)
The music video for '4:44' is banned for broadcasting as it violates the traffic laws in Korea. He also shared one of his song being banned due to the same reasons in the past(He was walking alone on the road).
Next artist is GRAY with his new song, 'TMI'. The phrase 'TMI(Too Much Information)' became a 'thing' in Korea quite recently, however, the meaning to the phrase is a bit different from how it is used in the states. In Korea, TMI means someone is talking too much. Whereas in the states, it is used when someone is saying something too personal or detailed information to another person.
GRAY, for those who don't know him, is a famous producer, rapper, and singer. Eric mentions that he is one of the most prolific writers in the industry. Gray had broadly worked with various and numerous artist in the scene and also was a judge in Korea's rap survival program, "Show Me the Money". He also produced a song for Wanna One  as well!
Eric reads out the lyrics of the song in English and explains it to the listeners what it is about, and how the title 'TMI' is used in the song. Eric also points out that it is really great to see Gray put out a song of his own and show his work.
The last artist for this episode is NU'EST  and their latest single, 'Bet Bet'! Eric shares brief information about the group and mentions that he is excited to see them make their comeback and also looks forward to seeing what they will show as a whole group!
The fandom name for NU'EST is called, "LOVE" and apparently the reason for the name is that the word NU'EST looks similar to the word "love" when written in Korean. (LOVE = 러브). Can you see the resemblance?
With that, now it's RAMBLE TIME~~!! For this episode's rambling, Eric talks about his new song, 'Runaway' (It's really good, everyone needs to check it out!). Eric shares about the people involved in making this song and also mentions that he will be releasing an episode just about this song (which you can find it here!).
There's also big news in regards to his song Runaway. Eric makes a promise that if there are 20,000 followers in K-Pop Daebak Show's social, Brian will be covering the choreography to Eric's 'Runaway'!(everyone start following!!) Also, the podcast is giving out numerous giveaways to listeners who comments so if you want to win some amazing giveaways, you can comment on their social media as well!
Like always, there are a bunch of great moments that aren't covered here, so if you want to hear more, go check episode 5 of K-Pop Daebak w/ Eric Nam on your podcast providers or you can listen to them below!
Apple Podcast: K-pop Daebak w/ Eric Nam Ep. #5: PARK BOM, GRAY and NU'EST
Official Website: K-Pop Daebak w/ Eric Nam
Read More : K-Pop Daebak w/ Eric Nam: "Brian loves pumpkins" Episode 4 TXT, EXO ChanYeol and TWICE Recap