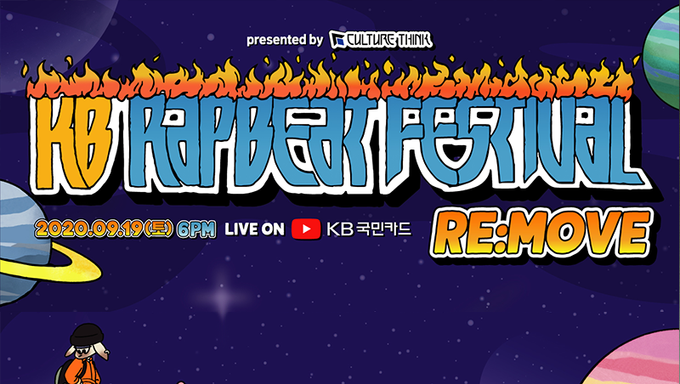 RAPBEAT FESTIVAL, a multi-genre music festival in Korea with the largest number of lineups, goes online this year on SEPTEMBER 19th, Saturday 6PM (KST).
'KB RAPBEAT FESTIVAL [RE:MOVE]' has a slogan of 'REMOVE the days put on pause, RE:MOVE to the day we meet again!' as a phrase to bring big encouragement to people amid COVID-19 pandemic.
Expectations were tremendous after a line-up has been announced: BEWHY, CHANGMO, LOOPY, NAFLA, SUNWOOJUNGA, ASH ISLAND, BLOO, COOGIE, LEE YOUNGJI, BASICK, OWEN, ZENE THE ZILLA, LEELLAMARZ, YOUNG WEST, KHUNDI PANDA, and SON SIMBA.
"Although we weren't able to run an offline festival, KB RAPBEAT FESTIVAL 2020, this year, we are happy to hold a free online festival on the same scheduled day to fulfill expectations of our audience. We hope to send warm words of care and encouragement to everyone watching this festival," CULTURE THINK, a host of the festival, explained to Kpopmap.
KB RAPBEAT FESTIVAL [RE:MOVE] will stream for free on YOUTUBE, and online donation campaign, to support vulnerable groups suffering from COVID-19 crisis, and online events, for those people supporting us from worldwide, will be held during live streaming.
Further details on this event will be announced at RAPBEAT FESTIVAL official SNS channel(@rapbeatfestival).
RAPBEAT FESTIVAL OFFICIAL INSTGRAM
RAPBEAT FESTIVAL OFFICIAL FACEBOOK
KB CARD'S YOUTUBE CHANNEL