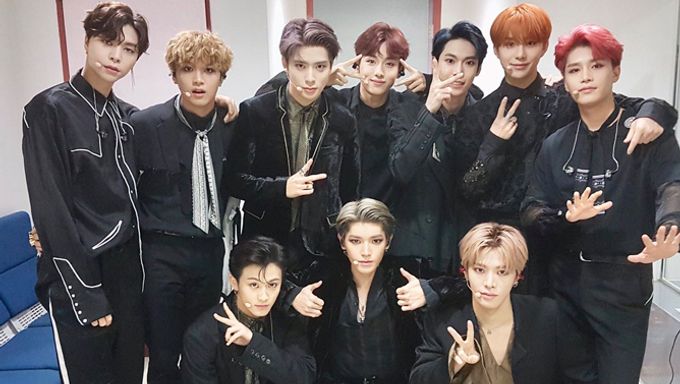 It is common for K-Pop fans to feel unhappy at the company of their favorite idols for several reasons. Recently, on online communities, it has gotten the attention of many that fans of Red Velvet, NCT and EXO are pissed at SM Entertainment. Here are some of the reasons why.
When Red Velvet was still promoting for 'Peek-A-Boo', SM Entertainment released the time table of their comeback and fans were commenting on how the images of the girls were smaller than the phone on the left.
In addition to that, some also felt that the font on the timetable was hard and small to be read.
To add on, when Red Velvet was promoting 'Rookie', fans were speechless that the only difference between the colored versions of the poster was just the font.
Moving on to EXO, their recent announcement of a comeback, "Don't Mess Up My Tempo", has caused many of their fans to be excited.
Yet, once again, SM Entertainment had caused the fans to feel upset with the official teaser picture.
According to some fans, they could hardly see the faces of the members. In addition to that, the picture is in black and white.
The poster of the upcoming album was also disappointing for some since fans could barely see the face of the boys! Only two versions of the poster, black and white and color are available.
Continuing about the contents of the album, EXO fans were also furious to find out that there are both domestic and international versions. Postcards included in the domestic and international versions are different and Koreans would have to go through Amazon to get the international versions.
It appeared to many fans that it looks like SM Entertainment wants the fans to buy both versions.
However, according to NCT fans, some felt that their situation was the most absurd.
Earlier in October, NCT 127 came back with 'Regular' and when fans received the album and poster, they were surprised to see what the poster was. Apparently SM Entertainment has decided to use blurred and cropped pictures of the members for their official posters.
Some fans thought that SM Entertainment wanted to protect the rights and blurred out the pictures when the album preview was released but it just turned out that they were serious about printing the posters the exact same way.
In conclusion, for all three fandoms, it appears that SM Entertainment makes things hard for their fans by either blurring or sizing their idols too big or too small.
What do you think of the situation?
Read More : f(x) Victoria Smiles After Seeing Kris Wu's Expression When EXO Song Is Played During Audition