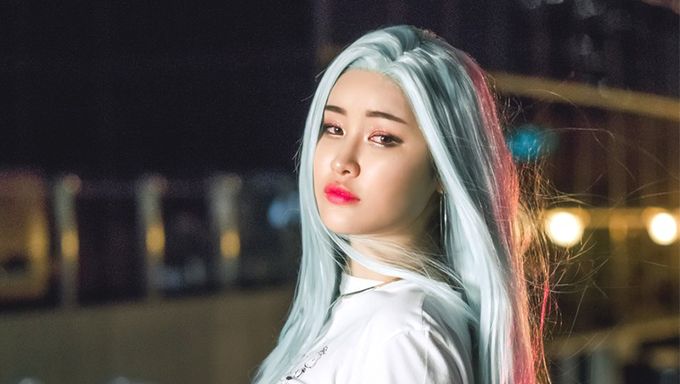 With K-Pop's global success, fans from all over the world now take interest in not only the artist but the country of origin as well.
But, here is an artist who decided to take rather a different path and mix her music that is, of course, K-Pop, with other country's culture. Her name is HYEMIN.
HYEMIN is a singer who has first debuted in Korea(2015) as the 5th singer of "PAGE"
– different generations of solo-singers under the same name. It's like "Doctor Who" – and as PAGE, she released albums, appeared in K-Dramas and performed in two musicals.
And yet, in the middle of her career, the singer decides to move to Spain and restart her musical journey in a whole new environment. Now, she's the first Korean K-Pop singer based in Spain.
With her unique path, singer HYEMIN shared her story with Kpopmap.
Tell us a little about yourself. What drew you to the music industry?
When I was growing up, I was watching a movie and the moment I heard the soundtrack, I fell in love. It was super beautiful, bursting with emotions! From that moment, I realized that I wanted to be a singer and share that same feeling with the listeners with my music. Moreover, my family loves music and my dad is also a musician. He plays numerous instruments like guitar and drums.
How did you become the 5th "PAGE" and how was it to sing under the name PAGE?
Back in 2014, I had an opportunity to be auditioned for the 5th PAGE and with great fortune, I was chosen as the 5th PAGE. It was a great privilege to debut under the name PAGE because the name carried a certain legacy of being a talented singer. However, at the same time, I was under a lot of pressure since I had to live up to that name.
After singing as PAGE, why did you move to Spain?
After a few years of singing as PAGE, I had an opportunity to have my own mini-concert in Madrid, Spain and I completely fell in love with the people and the country itself.
So, I made a bold decision and decided to come back to Spain to learn Spanish and know more about the country! I also wanted to explore my music in a whole new environment and work with people from different backgrounds.
Now that you have released an album since your debut in Spain, what were some major differences between being a singer in Korea and a singer in Spain?
First, I have to say that I am so happy to release my first album, "HOPE" which consists of 7 tracks. It seemed like just yesterday when I arrived in Spain, releasing a single("FATE") and now nine months later, I have released my first full album "HOPE"! Also, I will soon be releasing my Christmas mini album... Time passes so fast but we have worked really hard to achieve all this in less than a year which I still can't believe.
The main difference between Korea and Spain as a singer is that here in Spain, I can be closer to my Fans(Mini) since I get to be on stage more often than in Korea. Here I can directly talk to my fans, which is something that in Korea is quite hard to do. I really enjoy meeting my Minis and I am so happy. I hope in the future, I could have my own concert or a mini-concert in Korea and interact with the people, ask them how the concert was and also answer all their questions.
What was your most memorable performance and why?
I go to many different cities to perform and It doesn't mean that I don't enjoy other places, but it's just that Canary Island has something special for me because it was where I first performed my stage in Spain and also where my fandom was created!
One time, I was performing there my minis prepared a fan chant to my song "FATE". After 4 years of being a singer, it was the first time my fans did that to me. I was so emotional, and I actually cried on the stage.  I have so many great moments to share but that will take forever hahaha!
How do you interact with and respond to your fans around the world?
I have my official social media where I constantly upload new content every day. I try to answer as much as I can to the questions my fans ask. I also like to talk about music with them and ask what kind of music they would like to listen to in the future. It also helps me to know their tastes and make better music in the future.
What advice would you have for someone wanting to follow in your footsteps?
Many of my fans have asked me how they can be an idol or a singer.  If they want to be an idol, first they must learn how to speak Korean and also understand the Korean culture. Being good at singing, dancing, and performing is a must. However, I think the most important thing is to have confidence and enjoy it when you're on the stage. The public can feel how you feel and if you look confident, they will enjoy it with you!
You will have to decide many things on your own and it will be hard. If you really want to start practicing everything I've mentioned, then start by creating your social channel and start uploading good quality videos. If everything goes well, you will have your own followers and supporters, and also may lead to auditions!
https://www.facebook.com/KpopmapKLICK/videos/430030534565282/
Share us your future goals as Spain-based K-Pop singer HYEMIN in the year 2020.
I have recently finished my new Christmas album and it will be released very soon! I'm also preparing for my tour in 2020 which will be held in Spain and other countries as well!
Any words for your supporters?
Thank you all so much for supporting me and being always sweet to me. I'm so grateful to have Minis all over the world and I wish one day, I would go on a world tour and meet you all in person. I'm working really hard to give more music and joy to you so just hold on a little more and I will give them all! I'll see you soon on stage. I love you all!!
Read More : Talks With Newtro Pop Singer, YUKIKA In The Eve Of Neon Flashing City | Exclusive Interview