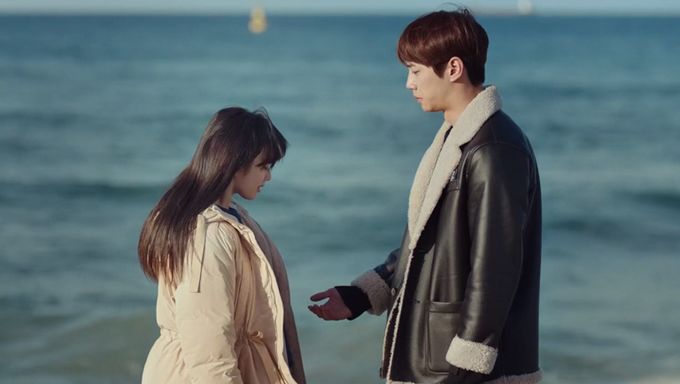 Welcome back to Kpopmap weekly series!
The romantic pick series is posted every two weeks. In this Thursday series, we are choosing THE most romantic scene of the previous two weeks. It is an editor pick series (currently watching: "Imitation", "My Roommate is a Gumiho", "Nevertheless,", "At a Distance, Spring is Green", "Light On Me", "The Witch's Diner").
Be aware of MAJOR spoilers
For these two weeks (July 7 - July 20), our pick goes to U-KISS's Jun (Lee JunYoung) breaking Jung JiSo's iron wall and reuniting with her through sincere and sweet words followed by a kiss on the beach. They are finally together again! What makes this scene particularly memorable is the characters' strong feelings for each other.
To sum up, U-KISS's Jun (acting as SHAX's Kwon Ryuk) and Jung JiSo (acting as Tea Party's MaHa) dated but had to break up to protect their idol careers despite their feelings. Jun was the one who asked to break up and he was also the one who worked hard to get back together. On the other side, she thought that she should no longer date him but still loved him.
In this scene, Jun went all the way to Jung JiSo's hometown where she was spending a few days so that he could ask her to get back together. He followed her all day and helped her with her job, trying his best to get her back.
However, she put on an iron wall and hid her true feelings (her love for him). Jun did not give up and asked her about her feelings about him if she forgot about SHAX, Tea Party, and fans.
As they arrived at the beach, he continued to show his true feelings for her and tried to convince her to listen to her true feeling.
He told her: "The path you're walking on, let me walk with you".
As she ignored him, he ran to face her and called her name. When he first called her, his tone was firm and persuasive, but he softened his voice when he saw that she started to cry.
Jung JiSo's wall broke down. Jun asked for her hand and apologized for "letting her hand go". "I'm also sorry for hiding like a coward. Let me hold your hand again."
They were interrupted by a call, but he turned it off and asked her to answer with her sincere feelings. After struggles and tears, she agreed to grab his hand.
They reunited with a kiss on the beach and beautiful OST.
You can re-watch the moment in the clip below with English subtitles:
#LeeJunYoung wants to get back together with #JeongJiSo – they have a frank conversation and then kiss on the beach! 🏖️😘

Catch #Imitation right now on Viki: https://t.co/cZTS5jZTb6 pic.twitter.com/2yNFcvw28L

— Viki (@Viki) July 15, 2021
If you've missed the previous picks, you can check it here.
See you in two weeks for a new romantic scene.
Don't forget to share your favorite romantic scene of the week in the comments!