"Do Do Sol Sol La La Sol" is a new romantic comedy with Lee JaeWook and Go Ara (available on Netflix). The drama's love story already promises to be cute.
It tells the story of the pianist Goo RaRa (Go Ara) whose life fell to the bottom when her family was ruined. She got to meet and to fall in love with the mysterious SunWoo Jun (Lee JaeWook). For more about the drama, you can check our cast and summary here.
Be aware of spoilers of the first episodes.
In the first episodes, Lee JaeWook first met Go Ara while she was wearing a bridal dress and he couldn't stop looking at her.
After their first meeting, he couldn't help but keep thinking about her. They ended up meeting again and he has been so sweet for her since then. He is completely in love with her.
Here is a selection of 4 times he was too sweet for her in the first episodes.
1- He lent her money and nursed her
Go Ara was hospitalized after her car collided with Lee JaeWook's bike. He brought her to the hospital and asked for compensation for damages.
But he ended up lending her money and helping her at the hospital. He brought her the food she asked for and feed her too because she could not move her arms. He even slept at the hospital.
They have only briefly met once before but because of his kind heart and feelings for her, he could do all this for her.
2- He gave her a ride on his bicycle
When she was feeling down, he gave her a ride on his bicycle.
3- He washed her hair
Because she couldn't use her arms and she had no one to stay with her at the hospital, Go Ara couldn't wash her hair. Lee JaeWook found a solution and washed her hair himself (even scalp massage!).
4- He found her a place to stay
Go Ara is homeless but she has to pay him back after she discharged from the hospital. She asked him to help her find a place and he help her one more time. Thanks to him, she found a place to stay.
So sweet!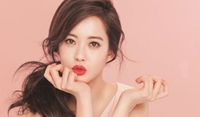 Became a fan of Go Ara
You can now view more their stories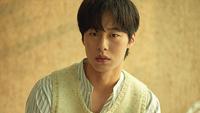 Became a fan of Lee JaeWook
You can now view more their stories