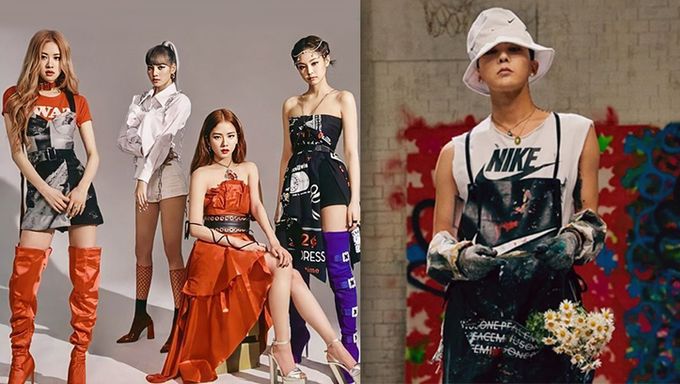 If you are a sucker for K-Pop music, then you will definitely know that the K-Pop stars are as fashionable as they are good musicians. Originating in South Korea in the 1990's, K-Pop found popularity sometime in the 2000's and today boasts of a huge growing number of loyal followers all across the globe. It's not just their catchy tunes that appeal to their ever-growing fan base, it is also the flamboyant display of high-end fashion. As K-Pop transforms into a global trend, Korean idols are seen more and more as fashion icons, rather than just being known for the finger heart sign or kimchi, Korea's image has expanded into a point of inspiration for global fashion. Here are a few trends that the K-Pop industry is bringing into 2021 and with the following guide, you might as well come out of your beauty rut with these beauty trends inspired by our favorite K-Pop idols!
1. That Thing Called 'Bling' Under The Eye!
Using glitter and rhinestones around the eyes is no longer too out-there for beauty and fashion addicts, especially those who love Korean makeup. However, in the past year, this style has been taken to new heights due to the use of chunkier glitter with a stronger sheen, and even adding pearls and rhinestones to highlight the under eye. The bold style is worn by idols of all genders, proving that over-the-top beauty looks are perhaps, meant for everyone.
2. Fashion Beyond Gender Restrictions And Casual Suits
The recent wave of all gender fluid fashion gave us all the content we needed. Whether it is TXT's SooBin in a half skirt or your favorite boy groups in eyeliner and crop tops, the new wave of breaking gender norms has definitely come into the fashion fraternity and is here to stay. TXT's SooBin proves that skirts can also add an edgier look. Also sometimes, it is all about the laid back look. Casual suits are the perfect way to amplify that theme with its simple, yet bold, design. K-Pop idol SunMi exemplify the chic look of a casual suit. The casual suit look is perfect for the boss woman look, that can never go wrong.
3. Deep Dark Maroon Lips
K-Pop idols no longer stick to subtle pink and orange tones. Besides bolder eye makeup, lip color also witnessed many changes in the aesthetic taste of Korean women. Recently, a lot of K-Pop idols have sported lips in powerful shades of deep mauve, earthy reds, and chestnut brown, both as diffused all-over colors or sharp rock-chic shapes. Lips in dark matte tones, especially those in red and maroon are head turners for sure!
4. Leathers, Bustiers And Corsets
The simple black color makes leather so versatile, but still spices up any outfit because of its unique texture. ITZY and TXT both took the classic leather look to the next level, wearing top to bottom outfits with this unique fabric. Instead of sticking to the classic leather pants/jacket look, ITZY's Lia wore a leather ruffled dress, which definitely added a unique aspect to this concept. In the same way the American teens are currently on their corset craze. BLACKPINK's JiSoo wore a simple but edgy outfit during her 'Lovesick Girls' era. This trend also is prevalent in a lot more casual concepts.
5. Bejeweled Headpieces
Hair accessories have indisputably made a comeback in the past few years. If 2020 was the year of aughts-inspired clips and clamps, 2021 is all about ringing in the new roaring 20's with romantic headpieces studded with stones. Minimalism is over, and post-quarantine, stars are wanting to dress to kill! Having said that many of you might be curious about the fashion and beauty items that go inside the bag of a K-Pop idol! So here's sharing this video where SunMi let's us know what's inside her bag!
So, whether you're more of a trend follower or trendsetter, we've put together a few extra K-Pop fashion inspired looks that you can draw inspiration from. So don't be scared to mix and match trends, and to step out of your comfort zone.
Do you follow K-Pop fashion trends? Which K-Pop idol is the most fashionable according to you? Write in the comments section below.