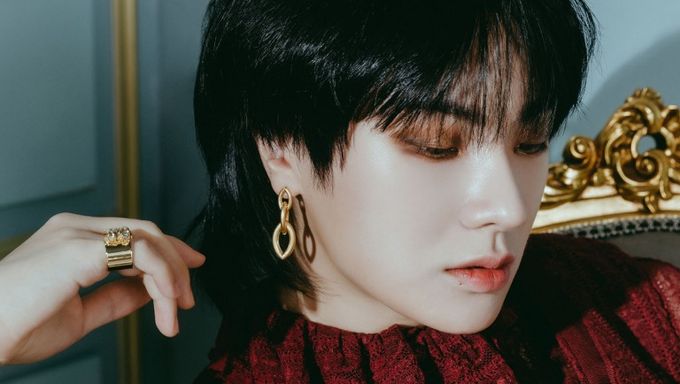 Concepts and fresh aesthetics are key aspects of a K-Pop idol's life. Their appearance is of utmost importance but that's not to say that conventional visuals are essential for success. On the contrary, K-Pop places the emphasis on the concepts that an idol can represent. From the cute girl or boy next door to a supernatural vampire, idols are expected to be able to take on any aesthetic whatsoever. Concepts are important so as to maintain a sense of freshness and to deter fans from getting bored of the same thing. For example, a girl group that has been doing a cute concept for quite a while is often seen switching things up with a sexy concept. However, such sudden changes can be quite a gamble but that's a whole different argument altogether.
Hair makes up for a very important part of an idol's concept. OnlyOneOf 's JunJi  has had hair down to his shoulders on the back and covering his eyes on the front even since their debut. This was in order to make the group memorable and eye-catching to the viewers as they're a rookie group and recognition and retention are their biggest priorities, at least at the moment.
Similarly, it is not uncommon for idols to change their hair color every comeback. They're often spotted hiding their hair in hats and beanies during their public appearances bright before a comeback, creating quite a buzz about what hair color they could be hiding. As a matter of fact, hair color has taken up a lot more importance than perhaps originally intended.
BTS members are often seen going viral for changing their hair color, dyeing their hair on their own, or denying haircuts issues by the company. There have been numerous instances of ARMY edits coming to life, especially with V 's long hair perm, JungKook 's man bun, and more. It is clear therefore that hair is definitely a hot issue in idol culture.
Here are 7 K-Pop idols who have rocked the coolest hairstyles!
The first place on this list undoubtedly belongs to and will always belong to Hanse of VICTON. The idol has sported numerous iconic hairstyles starting from blonde mullets to long black hair with bangs. Very few idols could pull this off with as much ease and class as Hanse and it suits him perfectly. The long black hair, in particular, gives him an otherworldly aura that is truly inimitable.
IU has an eye for fashion and it shows. For her album "Love Poem", IU opted for an indigo hue with greyish tones for her hair and it couldn't have been any more perfect. While blue is a common hair colour for idols, the shade of blue IU went for was unique and in tune with the overall feel of her album. It was fairy-like and flowy, quite like IU herself and it looked even better on stage!
ARMYs positively lost their minds when JungKook showed up with long black hair parted down the middle, complete with a wet sheen for the Lotte Family Concert in 2019. This look is known in the BTS community as "190811 JungKook" and will always be iconic in the timeline of JungKook's hairstyles.
NCT's Yuta made waves in the style and fashion world when he was seen with bright red hair in a half-up half-down hairstyle with bangs in front. Out of all the hairstyles idols have been seen sporting, this red ponytail with bangs look remains a superior choice. Yuta looked like he walked right out of an anime and fans couldn't help swooning over him.
Solar's half-black, half-neon green hair was a bold choice and she pulled it off perfectly. It's a well-known fact that the MAMAMOO girls play by their own rules so it is not the least bit surprising that Solar decided to perform in this electric green and black hair.
HongJoong is popular in the K-Pop industry not only for his incredible talent but also for his unique style and extraordinary fashion sense. He effectively brought back and popularised mullets in K-Pop, making even non-fans want to try getting a mullet. The hairstyle was clearly made for HongJoong because he carries it effortlessly.
HyunJin's bubblegum pink hair will go down in history for being one of the hardest looks to pull off and yet HyunJin does it so flawlessly that one is easily convinced that the idol can truly pull anything off. When he puts it up in a half ponytail, with just the right amount of curtain bangs on the side, there's no saving all the fangirls.