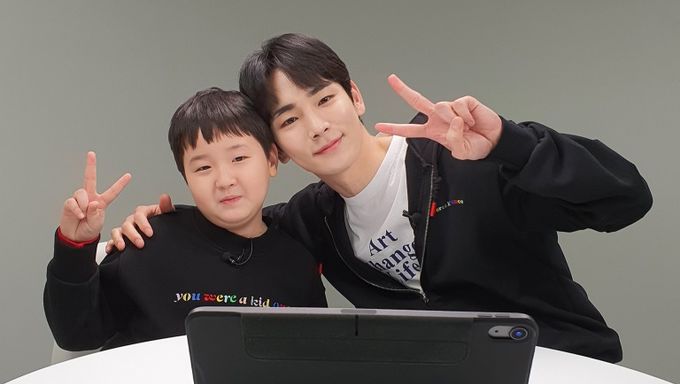 ODG is a South Korean YouTube channel and apparel line with the motto of "you were a kid once". It features a fixed cast of little children, ranging from 4 to 12 years old, who meet people, usually artists, from various walks of life and share an open heart-to-heart conversation. Topics vary from guest to guest but one of the most popular segments of the show has been the "Career Review" where the kids meet artists, usually K-Pop idols or actors and take a trip down memory lane to see their evolution.
A lot of hugely popular K-Pop groups and soloists have appeared on ODG so far, such as SHINee, Super Junior, NCT 127, NCT DREAM, Cheetah, IU, EXO's SuHo, and more. While they do enjoy worldwide popularity, for some of these kids, they were just another "oppa" or "ahjussi".
Here are 5 moments from ODG that we can't get out of our heads.
1. When MinSeo called Onew her "samcheon"
In an episode where the ODG kids were to review the careers of K-Pop superstars SHINee, one of the children, a young girl named MinSeo asked Onew how old he was. He answered that he was 33 years old (in Korean age), which prompted MinSeo to say that he was like an uncle to her! The expression on Onew's face will never get old.
2. When HaRang told Key that he had a happening dating life
In the behind-the-scenes clip of the same episode, the kid Key was paired with, HaRang, confessed that he had a number of girlfriends. When Key asked if they were female friends, he ensured him that they were, in fact, his girlfriends. However, he also added that this should be kept secret and asked the editors to put a beep sound over his confession. Key was so fascinated and surprised at this confession that his face turned red from being flustered.
3. When a kid called SuHo "average"
On an episode of ODG where EXO's leader SuHo was promoting his solo music, a young girl, who didn't know the idol, responded in a way to him that was quite underwhelming. When SuHo told her about her group and asked whether she thought he was popular, she said that he looked quite average to her, leaving him speechless.
4. When KyuHyun was asked if they really needed to do their group chant that way
On an episode of "Career Review" with Super Junior, member KyuHyun was paired with a particularly feisty and curious young girl. When he enthusiastically showed her their group chant, she was straightforward and honest about it, saying that it could've been better. KyuHyun had no response to it and awkwardly played along, giving fans a good laugh.
5. When MinSeo met IU
Finally, one of the sweetest moments in ODG history, has to be when MinSeo finally met her biggest role model, IU. She was given the challenge of acting like she couldn't recognize her since she's often seen not recognizing popular celebrities but when she could finally reveal her love for her, it was just adorable. She went on to act out IU's famous scene from "My Mister" and it was an overall wholesome experience.