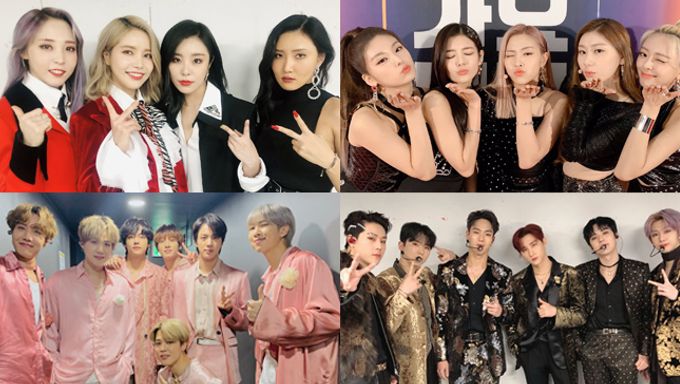 SBS "Gayo Daejeon" took place on Dec. 25 and despite how it was supposed to be a happy day for many K-Pop idols and fans, it did not really turn out to be one. The reason behind is the fact that there were many K-Pop idols who had or almost had gotten injured due to the stage and slippery floor.
Kpopmap had compiled some of the incidents and you can take a look for yourself below.
#1 Red Velvet's Wendy
You might have already heard the news about Wendy as it was reported that she had fell over a height of 2m during rehearsal for the show. SM Entertainment had released a statement saying that she is suffering from wrist, hip fracture as well as facial injuries.
Later, SBS had released an apology towards Red Velvet's fans and the viewers that Red Velvet would not be able to perform due to the incident and promised to pay more attention towards safety in the future.
We hope for a speedy recovery for Wendy!
#2 MAMAMOO's Solar
During the red carpet, Solar had allegedly fell due to the stairs which were not properly marked and were hard to identify. Her scream could be clearly heard during the broadcast of the red carpet session.
https://twitter.com/kimjunmyeonniee/status/1210011205554847745?s=20
The rest of the members as well as the MCs could be seen rushing to check if she was alright.
#3 NCT
NCTzen was worried about TaeYong when they saw how he was almost unable to get his footing when he was executing a dance move on stage. You can take a look through a fancam uploaded online below.
that stage is slippery as hell.... what are you doing @ sbs https://t.co/rhUhQV8Vwa

— 竜ryu (@nct_127) December 25, 2019
Other members such as YuTa and JaeHyun were also identified having a hard time performing due to the slippery stage.
Clip of NCT's Yuta and Jaehyun almost slipping. pic.twitter.com/SFpaKA2jrh

— Philippe (@_meowminho) December 25, 2019
#4 BTS
During BTS's performance, ARMY noticed that the floor indeed was slippery and member Jin almost fell and tripped while performing.
seokjin slipped and almost fell during today's performance, there was something with the stage, the floor seemed slippery

— sei⁷ (@btsinpics) December 25, 2019
#5 ITZY
ITZY's leader, YeJi was also seen struggling with the slippery floor which had caused many to hold their breath when they saw her almost slipping.
https://twitter.com/olleoberry/status/1209788073887723522?s=20
#6 MONSTA X
MONSTA X's I.M were also noted to have almost slipped on the main stage due to the floor.
안 넘어져서 다행이다ㅠㅠㅠㅠㅠㅠㅠㅠㅠ pic.twitter.com/HXy2qA95xt

— 빛나는뀬💜 (@bnnk96) December 25, 2019
Member MinHyuk was also having a hard time balancing even while standing after the end of their performance.
https://twitter.com/_poo618/status/1209776953873420289?s=20
#7 Stray Kids
Member Lee Know almost slipped on stage too while performing and many could clearly see that he had done a good job in recovering from the slippery moment.
lee know slipped on the stage but balanced it quickly, he just recover from ankle injury, i hope he'll be careful more 🙁

sbs management was so faulty, so many accidents happened, I hope they'll consider artist safety first pic.twitter.com/2ZyVZGm9Id

— 📌 (@leeknowish) December 25, 2019
Hopefully there will no such incidents and every artists performing will be given the fair opportunity to perform in a safe environment.
Read More : MBC Issues Apologies To LOONA's Chuu, Fans React To It