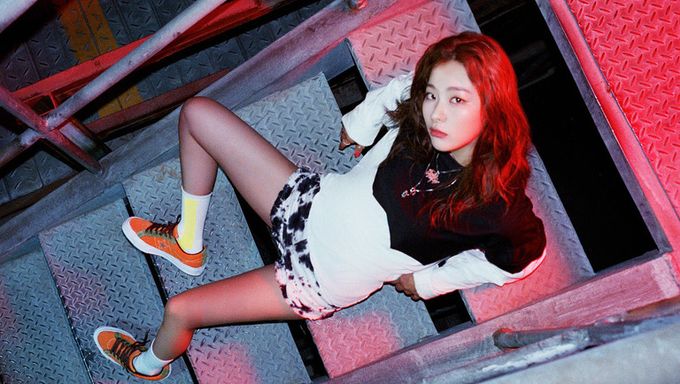 Converse All Star shoes are a classic, and they're one of those go-to footwear that never go out of style.
Chuck Taylors, Chucks, call it whatever you want, they've been worn for decades by some of the most popular and influential celebrities and artists.
The brand boasts a long history as well, having been founded back in the 1920's.
They go well with pretty much any outfit you throw together, even the ones you put on last minute before rushing out of the house, and are very versatile when it comes to styling.
K-Pop idols are among some of the stars who have repped the classic footwear the best.
SeulGi's (Red Velvet) all black outfit is a great way to wear the classic One Star model from the footwear brand. Having been the face of the brand, it's not hard to see why Converse chose SeulGi to represent them in South Korea as she looks better than great in them.
SunMi is also another K-Pop celebrity known to rock Chuck Taylors very often for her daily look. She really wears them well and one of our favorite looks from her is her iconic look wearing shorts with hi-tops.
Fashion icon Jennie of BLACKPINK has worn them, also giving the shoes her seal of approval.
The ones that Jennie is wearing however are actually a special model of the shoe, a collaboration with JW Anderson.
As you can see from the closer silhouette below, they do look a bit different from your average Chucks.
If you've been wondering what kind of kicks might go well with a pair of plaid trousers, look no further as Jennie shows you how to do it with a pair of Chucks.
JeongYeon's (TWICE) outfit with her pair of JW Anderson x Converse Run Star Hike has really killer matching color tones. The way she styles them with jogger pants give a really nice fit and silhouette to the whole look.
If you're one of those hipsters who enjoys wearing overalls, you can also go for a look like JiMin (BTS) has done before as well.
You can check out some more outfit ideas to match with your pair of Converse All Stars below.