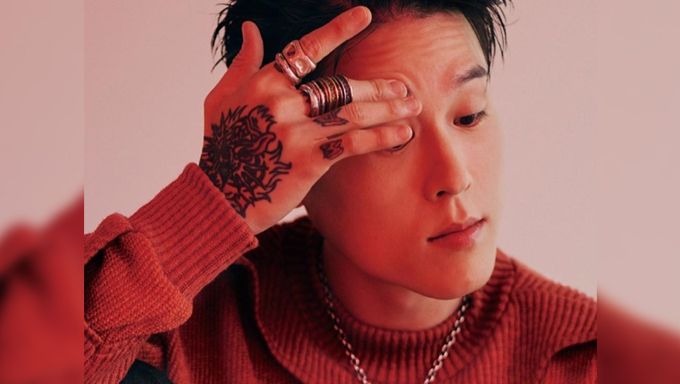 Korean Rap and Hip hop artist JjangYou is coming back today (September 6th) with his 1st album 'KOKi7' with 7 tracks. Fans waited a lot for his return. 
Kpopmap had the chance to interview the artist.
Can you introduce yourself to international fans?
Hello, I am JjangYou.
Make sure you check JjangYou's words (use the subtitle button) to Kpomap readers.
Can you introduce your upcoming album? How did you prepare it? Do you have a favorite song?
I can finally give you the opportunity to listen to the songs I worked on around 3-4 years ago.
'KOKi7' is composed of 7 tracks. It is a sincere album that solves a lot my pains. There are songs that help me recover for some part of me that is gloomy. I hope that this energy to live on a more powerful life will be transmitted to you.
I like the second track 'Kiss my mouth all day' and the 7th track which featured Minje.

Is there any story related to one of your songs that you would like to share?
Many people are curious about the story behind track 4 "NABi".
It is a song that I worked on by maximizing the emotion from my traumatic childhood. After the age of eight, I did not know where was my mother, I was not living with my dad either because of money issues and had to move place to place while feeling burdened by the looks of other. All these incidents remained as a huge drama until I became an adult. I had to overcome this trauma for me to become more mature, more awesome and a better person. That is why I maximined the emotions that I came to call my mother with the aggressive word of "bitch". Speaking about this song, all my feelings had faded and I do not feel anything about it anymore.

Compare to K-Pop, Korean Rap/Hip hop artists are not yet well exported overseas. Could you introduce, to Kpopmap international fans, Korean Rap/Hip hop characteristics and your (JjangYou) own style?
I don't interact with Korean Rap/Hip hop artists so I don't know much about their characteristics.
However, me and the friends that I interact with, we are working very hard to become known worldwide and investing in a lot of our time in making music. Although I am still lacking in a lot of areas, I am working extremely hard and also with many foreign artists. Maybe, you will hear a lot of good news from me soon.
Who are your favorite international artists?
I like Young Thug and André 3000.

Your MVs are artistic and unique. We are very curious about your new MV for this album. Could you introduce it ahead for us?
The MV was self-produced due to the lack of financial support. It has been 6-7 years since I started making videos by self-study through Korean video cafe communities or YouTube. It took me a lot of time to improve the quality due to numerous trail and error. There are still lots of stuff that I need to improve but finally, I think I can show with confidence my videos by saying "This is JjangYou's videos!!".
In this album, the overall atmosphere of the songs is more something like 'the past is the past, in the present, I am not a dark person anymore' than a gloomy feeling. I tried hard to look cool.
You have nice tattoos. These days international people have much interest in Korean tattoos. Is there anything you would advise or give a tip on?
Many people might search for cheap places to do their tattoo but since it something that will be on your body forever, I recommend finding a proper place done by someone with experience.

Are there any places in Seoul that you would recommend to foreigners to experience the underground culture of Korea? Is there any place you particularly appreciate?
In Hongdae, I recommend Henz Club and Modeci. Both are in the same building so I think you can enjoy the two different atmospheres.

You are from Busan, is there any places there or food you would recommend to tourists?
If you like seafood, I would recommend the restaurant name '기장 연화리'. Haenyeo (female divers) are catching them in the sea right in front, so the food is very fresh and also by looking at the sea, you can feel relax too.
Instead of a crowded place like Gwanganri or Haeundae Beach, I prefer the sea at Yeongdo island. In case the spot becomes too famous after I shared it, I will keep the location as a secret for now. Hahaha.
Do you have any plans of going overseas for trip or for work? If yes, where?
I have no plans in going overseas for now but my dream is to travel around the world. I could receive inspiration from various cultures and people, through that inspiration I think it could help me not be close-minded and more mature.
If I really have to choose my favorite place, it would be Europe mood.

Do you have plans to communicate with international fans through SNS or V-Live? Lastly, do you have any words to say to Kpopmap international fans?
Yes, all is set to be able to communicate with many people.
Kpopmap readers, Goodbye~
You can check the artist's album preview below.
Read More : Exclusive Review: CoCoSori's Sori "Touch" Solo Debut Showcase