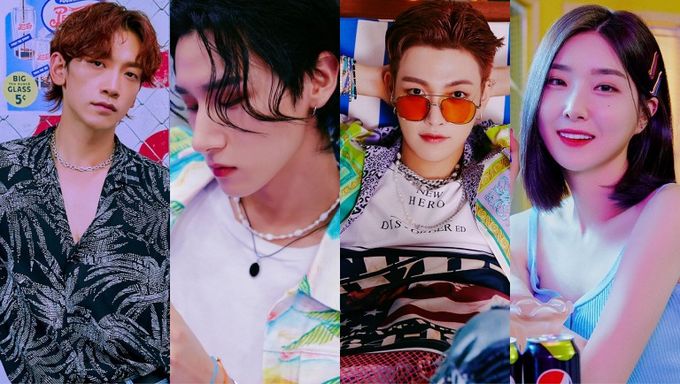 Some of the hottest artists have come together to make this collaboration happen. We're talking of course about Pepsi Korea and Starship Entertainment's latest digital single 'Summer Taste'. The 'Pepsi x Starship' project is part of the '2021 Pepsi Taste of Korea Campaign'.
Previously this year, SoYou and IZ*ONE collaborated for 'Zero:Attitude' under this project, which featured pH-1. This time, MONSTA X, Rain, ATEEZ, and Brave Girls have come together to bring us the summer bop of the year: 'Summer Taste'. Singer YoungTak was also part of the music video.
Brave Girls' YuJeong and YuNa, MONSTA X's ShowNu, HyungWon and I.M, ATEEZ's HongJoong and YunHo and Rain are the participating artists in this project. The song has the perfect balance of vocals and rap, which makes it highly refreshing to listen to. The choreography is eye-catching and also seems easy to follow.
Fans are so in love with the song that they want a whole album full of such collaborations.
I hope Starship and Pepsi will release an album together that includes #SUMMER_TASTE 🥺

My Pepsi "The Love of Summer" album could need a sibling~

Please 😭 I would literally drink 5l of pepsi for that😭@STARSHIPent @pepsi pic.twitter.com/6mgjlCb9L0

— STORY 🐳🧜🏻‍♀️ (@whale4minhyuk) July 14, 2021
Comments like "I threw away all the Coca-Cola at home. MONSTA X, I love you.", and "This video is the best thing that has ever happened...I will NEVER buy Coca Cola again" filled the comments section under the music video on YouTube. Another highlight for fans was I.M and HongJoong rapping together, creating the perfect synergy.
Im addicted to Hongjoong "Let me go Let me go Let me go right ah yeah ah yeah~"🎶
And the transition between Hongjoong to I.M is so smooth 👏🔥#ATEEZ #MONSTAX #HONGJOONG #IM #SUMMER_TASTE pic.twitter.com/cuI4TIL6cU

— HaLaBoom🎃 (@keonnashi_) July 15, 2021
Newer fans who have recently been introduced to Brave Girls can't help swooning over YuJeong and YuNa. DJ H.One (HyungWon's DJ name) makes an appearance as well! Fans are congratulating YunHo, who has been a great fan of Rain, saying "Be like Yunho. Be a successful fan, not once, not twice but three". Finally, Rain brings it all together with flawless perfection and some of the coolest moves. We never could have imagined such a powerful combination and now that it is here, we can't get enough.
You can watch the music video for 'Summer Taste' here:
'Summer Taste' took over YouTube Worldwide Trends soon after its release, trending in 6 countries: Peru, Mexico, Colombia, Chile, Argentina and Russia.
What was your favourite part of the music video? Share your thoughts with Kpopmap in the comments section down below!