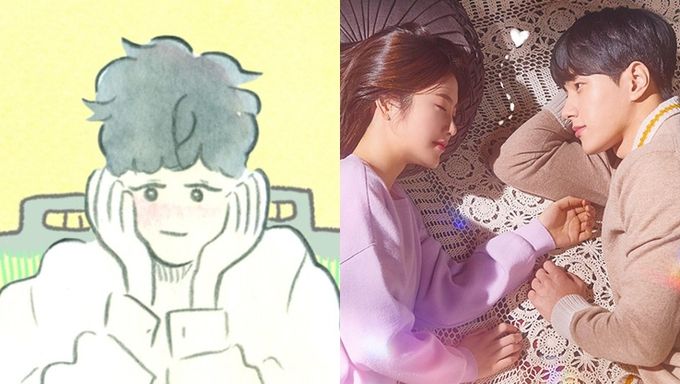 "Meow, the Secret Boy" or "Welcome" is a fantasy romantic comedy drama based on a webtoon of the same title written by writer Go Ara.
INFINITE's L or Kim MyungSoo (acting name) has the lead role in this drama. The acting-dol had entered step by step into a solid acting career since 2011. His last drama to date "Angel's Last Mission: Love" was popular and many enjoyed his acting. The actor took one step further in acting by recently leaving Woollim Entertainment.
Shin YeEun is the lead actress. She is a rookie actress who gained popularity with the web drama "A-Teen". She also acted in "He Is Psychometric" with GOT7's JinYoung.
Here is more information.
Meow, the Secret Boy (2020)
Information
Title: Meow, the Secret Boy/Welcome/Eosowa/어서와
Director: Ji ByungHyun
Writer: Joo HwaMi based on the webtoon of Go Ara
Network: KBS
Runtime: From Mar. 25
# of Episodes: 32
Language: Korean
Summary
The love story of HongJo a cat that turns into a man and SolAh a woman who is like a puppy.
Cast
Kim MyungSoo (INFINITE's L) as HongJo
A cat transforming into a man. He is listening to SolAh's daily worries and heals her wounds.
Shin YeEun as SolAh
She is an office worker in her mid-20s. A woman who is like a puppy because she likes people and she follows and tries to protect people. There are a lot of people around her: her father who is like a Persian cat and her one-sided love who is like a Siamese cat which she cannot catch.
She had tried to deny that she doesn't like cats. In the end, she brought a cat home and not a human.
Seo JiHoon as Lee JaeSun
He is the hardworking owner of the coffee shop and workshop named Sonamoo. He is quiet and expressionless. He is not easy to talk to, even for SolAh who has known him for 10 years.
Interesting Facts
Here is the first teaser.
Here is the first poster.
The drama story is linked to cats and Kim MyungSoo is well known for his love for the cute animal. He often posts about his cat (Byul) on his Instagram.
https://www.instagram.com/p/BpYzLaIgwSz/
About the webtoon
Here is a glimpse to the webtoon. You can check the webtoon here in Korean. It is not officially available in English.
Read More : 7 Reasons Why INFINITE's L Is The Angel That Make Us Fall In Love In "Angel's Last Mission: Love"