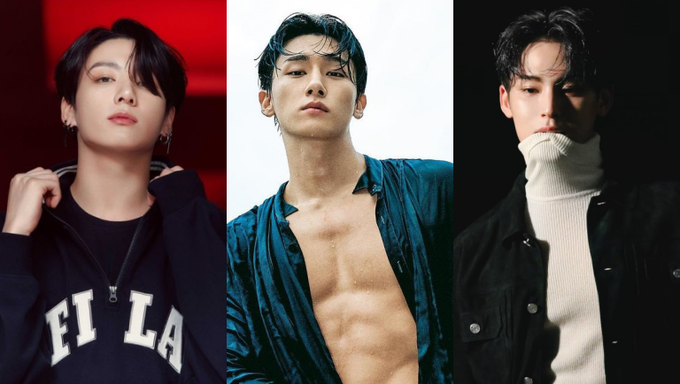 These days, K-Pop idols are oftentimes known to dabble into other forms of entertainment aside from singing. Some go on to be successful actors, variety show hosts, CEOs of companies, producers, songwriters, video games developers, brand ambassadors, etc. But more often than most, K-Pop idols usually serve more like models for various brands and gracing many magazine covers. 
Brands and magazines tend to seek out K-Pop idols to promote a certain product or service, a new trend, or for your everyday fashion photo spread. This is because of the wide range of audience/fans that these idols have and who can in turn become readers of their publications or users of their products. 
Some of the key characteristics of a model are stunning visuals, incredible physique, charismatic and charming personalities, and being photogenic. These are some of the unique features models have and in this article, we will be looking at 10 K-Pop idols who could double as models. 
 Kai is known as one of the most handsome and talented K-Pop idols. Being at the center of the legendary EXO, his visuals, physique, and features are always spotlighted to the appreciation of fans and audience alike, with many rightfully calling him "the idol of idols".
The K-Pop idol is also known for his acting skills as he has gone on to star in various hit series like KBS "Andante", and "The Miracle We Met". 
Also widely acknowledged as a fashion king for his impeccable fashion sense, he was the first idol to have his own Gucci Capsule Collection. He further expanded his already packed resume by being a muse for Bobbi Brown Cosmetics.
A magazine favorite, Kai has graced various issues of prominent magazines like ESQUIRE, ELLE,  VOGUE, ALLURE, NYLON, ARENA, HARPER'S BAZAAR, and 1st LOOK. 
Aside from his incredible talents that have contributed greatly to the success of BTS, JungKook is also widely known for his incredible physique and stunning visuals.
Often rated as one of the top 10 most handsome men in the world, the K-Pop idol with his members often grace magazines like BILLBOARD, ROLLING STONE as well as promoting renowned brands like SAMSUNG and FILA. 
For many, ASTRO's Cha EunWoo might just be the most handsome K-Pop idol ever! Widely recognized as the visual legend, each glance leads to screaming fans and camera clicks trying to capture his perfect face.
His height, physique, charming and bright personality, all summed up with his incredible singing and acting talents make him one of the most popular K-Pop idols, with a flock of brands and magazines queueing up to work with him.
One of the most popular K-Pop idols globally, MinGyu is widely known for his model-like features: height, body proportion, and striking visuals. 
With boyish charms and bright energy, making everyone around him happy and smiling, the singer is often tagged as a fan favorite and he is one of the most sorted after idols by brands and magazines like W, DAZED, and HIGH CUT. 
The all-rounder in the entertainment industry. Fans often say there is nothing that Jackson Wang cannot do and with each day, he serves us a new and different aspect of himself that makes fans swoon harder for him.
With 'Magnetic' visuals and a body structure that makes us fall in love with him in '100 Ways', the K-Pop idol and CEO is one of the most followed celebrities on Instagram, further piquing the interest of brands and magazines who require his attention.
The center and main singer of the fast-rising and talented K-Pop group WEi is also widely popular for his charming visuals and body proportions, his incredible singing and acting talents taking up his first lead role in the Kakao TV hit series "A Love So Beautiful".
The singer and actor is a brand favorite gracing popular magazines like ELLE, STAR 1, and NYLON.
No one thinks model and does not immediately think of RoWoon. 
The SF9 singer and actor is known for his incredible height, his impeccable visuals that make everyone's heart melt, his soft yet captivating and sweet voice tone, and his charming personality. Often lending his charms to brands and magazines like DAZED, MARIE CLAIRE, and COSMOPOLITAN.
The K-Pop idol has walked on many fashion runways over the last couple of years, making his runway debut back in 2017 at the "Seoul Fashion Week".
The aura, confidence, power, and sex appeal he exudes makes him one of the most unique and distinct K-Pop idols right now. You can very easily pick him out of a crowd.
Widely popular for his incredible rap talents, his deep baritone voice, his striking good looks, and cool expressions that always makes him the center of attention, the MONSTA X member is a favorite for many magazines like DAZED, VOGUE, MAPS and BEAUTY+.
MinHyuk aka Huta is the lead rapper for the Cube Entertainment boy band BTOB.
Widely popular for his incredible athleticism, physique, boyish charms, and fashion, the rapper also dabbled as a model gracing various magazine covers like STAR 1, BEAUTY+, GQ STYLE, and MEN'S HEALTH.  
While all the members of SEVENTEEN might look like a cut-out from a fashion magazine, one member that widely stands out in this category is The8.
His slim physique, flexibility, incredible striking poses,  impeccable fashion taste (he often styles other members) and unique visuals make him look like a model walking on the runways at Paris, Milan, and London.
Did we miss any? Share your thoughts in the comments below.