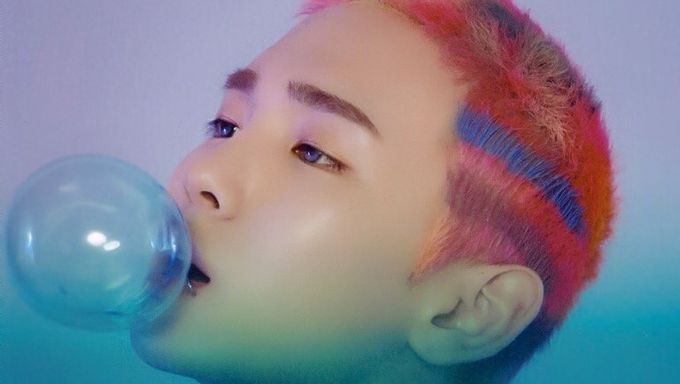 Idols often have to change their hairstyle for promotions, whether it be dramas or comebacks. An idol's hair goes through a lot in their career.
One of the most noticeable styles is rainbow hair. There are multiple ways in which you can style rainbow hair, and each one gives off a different vibe. Here are 5 idols who have rocked the rainbow hair look!
Ha SungWoon made a comeback last month with his newest mini-album entitled "Sneakers". For the promotions, he dyed his hair multiple times in various rainbow styles. One such style had a rainbow dyed onto the side of his head.
He also displayed another rainbow style that was more pastel-like that helped show off a softer and cuter image.
I think it's safe to say that Ha SungWoon can make any hairstyle work for him.
One of the most iconic and thought of idols when people mention rainbow hair is EXO's SeHun. He was one of the first idols to rock the hairstyle and had it during EXO's rise to stardom.
He didn't have the style for very long as it is only present in the teaser photos for their "XOXO" album and the 'Wolf' music video. However, SeHun was one of the idols that popularized the style and for that we are thankful!
SHINee recently celebrated their 13th anniversary. Throughout the years the members have sported various hairstyles and many of them were very memorable. In particular, when people think of SHINee hairstyles they think back to the "Lucifer" era of hair with TaeMin's extensions and Key's half-shaved head.
However, Key has had rainbow hair not once, but on multiple occasions. One of them being their "Odd" album promotions.
A bit of a more subtle rainbow look as the colors are not pastel and in your face. Still, a very eye-catching hairstyle that accentuates his sharp features.
Key then rocked a completely different rainbow style during their "The Story Of The Light Part 2" promotions. He had a shaved head with a rainbow pattern dyed into it.
This look was definitely very experimental, as no other idol has done anything like it. Key was the perfect idol to try it on because of his stylish looks and confidence, he pulled it off amazingly.
HongJoong has had many different hairstyles in the short time that ATEEZ have been promoting. He's had almost every color imaginable from blue, to blonde, to red. Recently he even had rainbow hair! When ATEEZ made their appearance on "KINGDOM: LEGENDARY WAR", HongJoong appeared with his new hair on the final episode.
HongJoong must have a superpower because every hairstyle and color suits him! This new style was the perfect way to close out their performance on "KINGDOM: LEGENDARY WAR", as every time they appeared the viewers got a completely different ATEEZ!
HyunA has been an idol for over 10 years and she's had many hairstyles during that time. In 2015, she released her fourth EP (extended play) entitled "A+". While promoting the title track 'Roll Deep', HyunA sported a rainbow hairstyle.
Her rainbow is a bit different than others on this list as it doesn't include typical rainbow colors, rather it has complementary colors like green, blue, and purple.
This hair color is very bold but HyunA is so stylish that she looks fashionable in anything!
An idol's hairstyle is part of their aesthetic. It can change every time they release a new song and often does. Rainbow hair can be difficult to manage as colors can fade quickly, so idols don't often have it for very long. However, whenever an idol does sport the style all their fans are able to bask in the idol's beauty.
Who do you think wore rainbow hair the best?
Let us know in the comments!