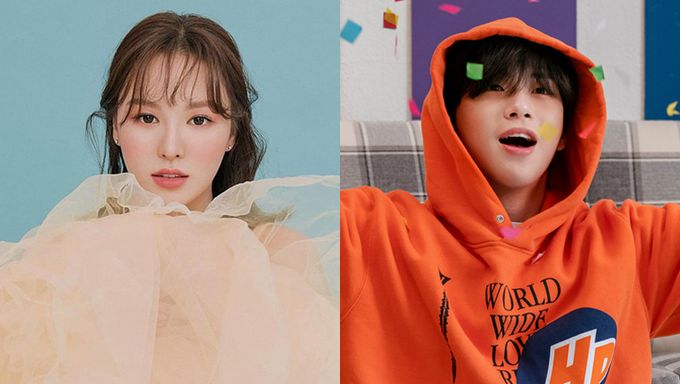 We are almost 2 weeks to April but the amount of solo comebacks and debuts that will happen in the coming month is astonishing. If you are curious to learn which groups and solo artists will be releasing new music, make sure to check out our schedule here.
Kpopmap noticed that there are at least 9 solo artists who will be dropping their new music in the month of April and let's found out who they are below!
1. Kang Daniel
We are not over 'Paranoia' but Kang Daniel is already preparing to make another surprise for his fans on April 13!
It seems like he will be returning perhaps with a single but as of now, we only can wait for more information from him.
2. Red Velvet's Wendy
When the news of Wendy making her solo debut was released, fans from all over the world were extremely excited! Ever since the accident which took place back in 2019, Wendy has been taking good care of her health and her solo debut also marks her return to the industry.
Who else has been waiting for Wendy?
Update: She will be making her solo debut on April 5.
3. Kim JaeHwan
Power vocal house Kim JaeHwan will also be making his comeback this April.
Aside from Kang Daniel, he is also a member of Wanna Onewho will be releasing his new music in the coming month.
4. Yoon JiSung
After completing his military service, Yoon JiSung is back and will be making his solo comeback in April too!
Looks like the boys from Wanna One who are promoting might gather for a quick selfie at the backstage of music shows if their promotion schedules align with one another.
Update: He will be making his return with "Temperature Of Love" on April 15.
5. UP10TION's Lee JinHyuk
Don't forget about Lee JinHyuk as this talented idol will be making his solo comeback in April!
Ever since his solo debut, he has been busy with not just music but acting schedules too. His latest work is "Dear.M" which was originally set to release was postponed indefinitely due to the ongoing bullying controversy with the lead actress.
Update: He will eb returning with "Scene26" on April 5.
6. SEVENTEEN's Hoshi
Give it up for Hoshi as he will be releasing his mixtape, "Spider" on April 2!
Many are already looking forward to it as he is named as the 'trendy performer' who will bound to show off another new side of him through this mixtape release.
7. SUPER JUNIOR's KyuHyun
April is going to be amazing as Super Junior's KyuHyun will also be making his solo return!
Although the official date is not announced yet, fans are already anticipating for his comeback as they know he will be coming back with good music.
8. MAMAMOO's WheeIn
Perhaps April is the comeback month for amazing vocalists as WheeIn will also be making a solo comeback! Fans have been missing her solo activities and it looks like they can look forward to it this coming month.
Once again, the exact date of her comeback is yet to be announced and we will be updating it as soon as more information is released.
9. YUKIKA
Give it up for Yukika as her 1st mini album "timeabout," will be released on April 7.
Previously, she had teased her fans with a preview track back in March but they will finally get a 'full taste' once the mini album is released!