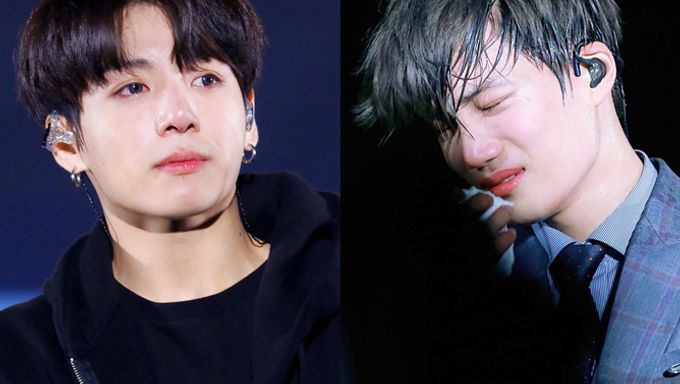 Do you get emotional easily especially when seeing someone else cry? Well, there are certain K-Pop idols that make us feel like crying after seeing them bawl their eyes out.
Through Korean media outlet, "Insight", they have listed 6 different male K-Pop idols that caused their fans to become emotional. Despite them crying, fans also noticed them to still look good!
Let's find out who they are!
#1 BTS's JungKook
One of the most memorable moments of JungKook crying has to be the time when BTS won their first 'Daesang' at Mnet Asia Music Award (MAMA) 2016 under the "Album Of The Year" category. He was also seen crying really hard during their last day of the encore concert for "2017 BTS Live Trilogy Episode III: The Wings Tour The Final".
#2 ASTRO's Cha EunWoo
When Cha EunWoo was acting in the hot drama "My ID Is Gangnam Beauty", he was noted to have a crying scene! Many fans were surprised by how he was able to express his emotions so well.
#3 BTOB's SungJae
During SungJae's appearance on SBS "Master In The House", he broke down into tears when he heard Jeon InKwon singing to 'Please'. It was revealed that he had became emotional because of the lyrics that revolve around loneliness.
#4 Park JiHoon
Park JiHoon is known to shed tears easily and especially when he was still a trainee on Mnet "Produce 101" Season 2, he was seen crying quietly by himself. He also did show off how fast he could cry when he went on MBC "Weekly Idol"!
#5 EXO's Kai
During "EXO PLANET #4 – The EℓyXiOn" held in 2017, Kai shared that the reason he had cried was because of a mistake that he had made during his solo stage. Although fans could hardly tell the mistake, his devotion for the solo stage showed his perfection and passion.
#6 Highlight's Yang YoSeob
Some fans shared that it was their first time seeing YoSeob crying this hard during his last day as the DJ for his radio show, MBC FM4U's "Yang Yoseob's Dreaming Radio". As it was time for him to serve his mandatory military service, YoSeob must have had a mix feeling when announcing his departure.
Read More : 5 K-Pop Idols Who Are Known To Cry Easily In Their Group