Do you like dancing or are you interested in watching dance choreography? If you are, you are definitely in the right place as today we will be looking deeper into choreography of K-Pop idol groups.
(G)I-DLE had just dropped their 3rd mini album "I trust" and title track 'Oh my god'. Thanks to their rising popularity and quality music, they are one of the rising and most sought after K-Pop girl groups out there. It has been 2 years since their debut and their journey in making music that represent their identity has been praised by various music lovers.
The choreography for 'Oh my god' had also caused many to gasp as they had made use of various elements to represent the lyrics and the message they tried to deliver.
Together with dancers who were kneeling on the ground, (G)I-DLE opened the dance with all of them standing up.
The scene was somewhat similar to the few scenes in their music video as the dancers might have represented the 'worshipers' of (G)I-DLE as gods.
At the first chorus, leader SoYeon was at the center and together with the rest of the members, they were able to express fully the atmosphere which they were going for.
Perhaps one of the next moves which had caused many to rewind the video would be the part where SooJin ran her hand across the chest of a dancer.
Not only was her expression on point, many also mentioned that SooJin had nailed her part really well.
Once again during the chorus, all the members were seen moving in sync and the positions of them looked well planned out. The transition is also complicated as they worked with quite a large of numbers of dancers to fill up the stage. It is hard to get a clean and synchronised performance and it also showed how much the girls had worked hard in perfecting the stage.
At the highlight of the dance, the girls matched the dance moves at the strike of the gong. This moment is where many felt that time had stopped for a moment as it had taken away the breath of many fans.
Many who had seen the performance version of 'Oh my god' only had praises for the girls. The choreography, outfits, facial expressions and intricate position changes had allowed many to recognize the talents of (G)I-DLE.
Are you also loving the choreography of 'Oh my god'?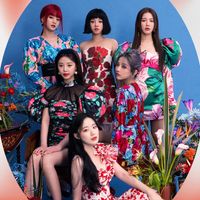 Became a fan of (G)I-DLE
You can now view more their stories