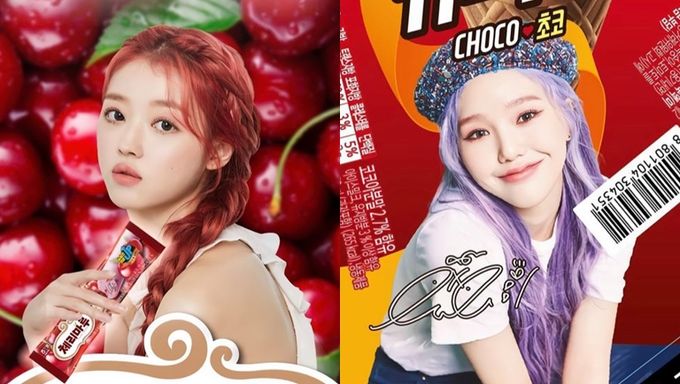 While it is currently spring in Korea, summer is coming real soon and you know what to have when the weather is hot? Ice cream!
If you are a fan of ice cream, you are probably going to love the wide ranges of flavour available in Korea.
On March 8, fans of OH MY GIRLbecame really excited after learning that members YooA and Mimi are representing two different ice creams!
Sweet and adorable like a cherry, YooA is seen holding the 'Cherry Maroo' ice cream! Thanks to her red hair, many fans commented that she suits the ice cream really well and love how the officials had chosen her to represent it.
As for Mimi, she was seen representing 'Super Cone' chocolate flavour which is probably a dream come true for her! Previously, the ice cream company, Binggeurae, had actually sent her an ice cream refrigerator along with the ice cream back in January this year.
Seeing the love these girls are receiving, many fans talked about how they are having a hard time deciding which ice cream to should buy. Others also pointed out that it is unbelievable that Mimi had actually become a model for the ice cream that she enjoys so much.
OH MY GIRL will be appearing on "KCON:TACT 3".
Do you also find them perfect as models?