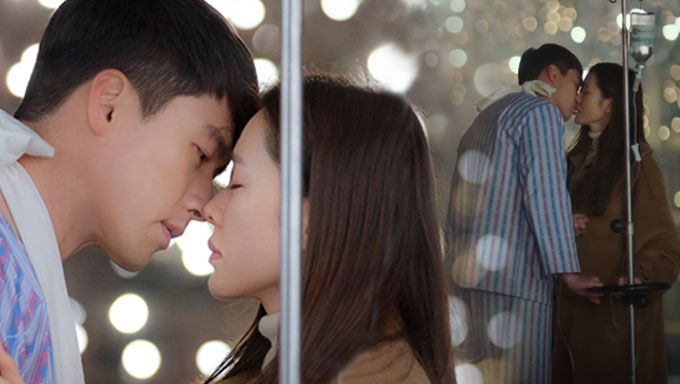 Have you been watching dramas these days? If not, you are missing many great scenes! If you like romance, this weekly Kpopmap series might be for you.
Be aware of major spoilers from episodes that aired this week. 
We made a selection of scenes from K-Dramas from this week that will make your heart flutter by their cuteness and romantic vibes and will make you want to fall in love. These scenes are the sweetest of this week. No more words, here is the list!
Let us know in the comment which scene you prefer and/or what is the sweetest scene of this week episodes according to you.
If you missed last's week choice, check it here.
1- "Love With Flaws"
Oh YeonSeo and Ahn JaeHyun as Joo SeoYeon and Lee KangWoo
It is time to say goodbye to "Love With Flaws" couple. The drama ended this week and with the end of the drama, the couple got lovey-dovey.
In the selected scene this week, Ahn JaeHyun said a heart-fluttering line. They were both at his house but as things got serious Oh YeonSeo panicked. She said that her underwears were not enough pretty and that she had to go change at home.
Ahn JaeHyun let her worry down by saying: "Are you stupid? ... You are the only one I see". He was letting her know that whatever underwear she was wearing, he did not care because she was the only one that matters. He then bridal carried her to the bedroom.
2- "Touch"
Kim BoRa and Lee TaeHwan as Han SooYeon and Kang DoJin
What if you started to have romantic feelings for your long-time friend? This is what is happening to Lee TaeHwan who started to have a one-sided love for his friend Kim BoRa. He is giving viewers a Second Lead Syndrome.
In the selected scene, Kim BoRa was applying a serum on his face. She dropped by mistake some of it on his lips. While she was removing it with her thumbs, his heart fluttered all over sudden.
Viewers could heart his loud heart pit-a-pat.
3- "Selection: The War Between Women"
Jin SeYeon and Kim MinKyu as Kang EunBo and Lee Kyung
Jin SeYeon and Kim MinKyu are facing obstacles and secrets in "Selection: The War Between Women". She wants to become the queen to find who killed her twin-sister while he thinks she is the same person as the late to-become-queen lady for who he had romantic feelings.
In the selected scene, Kim MinKyu was apologizing to her with his crazy-in-love eyes after she revealed her (fake) identity. He had consistently shown affection to her while she had been rejecting him and this scene proved his burning love for her.
He took her hands and made her stand. He told her while crying: "I will believe everything you say. I am just happy that you came back to life. ... Even if you are lying about something, it does not matter anymore. I am sorry for leaving you alone like this." He hugged her on a sad OST.
4- "Crash Landing on You"

Hyun Bin and Son YeJin as Ri JungHyeok and Yoon SeRi
In "Crash Landing on You", Hyun Bin and Son YeJin are so in love with each other that they cannot hide their feelings any more.
In the selected scene, they were at the hospital. Hyun Bin got injured while saving her. When he woke up from his surgery, he got upset that she did not leave North Korea as planned and he said harsh words to her.
However, he regretted it a while later while hearing the nurse saying how she had been carrying and crying for him. Looking out for a way to apologize. He went outside to meet her and they had a romantic make up kiss.
If you missed last's week choice, check it here.
Thank you for following the "Make You Fall in Love" series every week. We will have a short break and start again on Feb. 7 with more exciting scenes. Stay tuned and see you then!
Read More : A Look At Potential Ji ChangWook & Kim YooJung Characters On Drama Based On Webtoon "Convenience Store SaetByul"