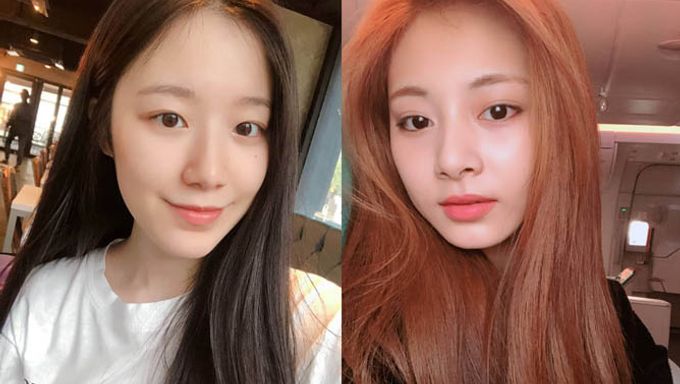 Earlier this year, Kpopmap has listed 4 different Korean female celebrities who looked gorgeous without makeup and this time we listed 5 more new female idols.
Most of the time K-Pop fans see their favorite idols wearing full makeup on stage and barely have the chance to see them bare face. This is a shame as fans noticed that many female K-Pop idols actually look gorgeous even without putting on makeup.
Let's check out who they are!
#1 OH!GG's TaeYeon
https://www.instagram.com/p/BpWTSRjhWZW/?hl=ko
There is no way to not know who TaeYeon is as she is one of the legendary K-Pop idols. Aside from that, fans noticed that back in autumn 2018, she was seen standing in front of a tree while wearing glasses with her bare face. Her fringe was also clipped up cutely and many fans felt that she looked more adorable than before.
#2 (G)I-DLE's ShuHua
https://www.instagram.com/p/BwTL4p2lacr/?hl=ko
ShuHua has recently made the headlines of several Korean media outlets after sharing a post of why she does not put on makeup. The young idol simply shared that she prefers the natural look and many fans agreed with her. They also pointed out that they love how she embraces her own beauty and hopes to see more idols do the same too.
#3 TWICE's Tzuyu
https://www.instagram.com/p/BuG3FfWAN4R/?hl=ko
Some time ago, the maknae of TWICE uploaded a photo of her in the airplane on their official Instagram. Many fans noticed that she did not put on makeup and actually love her look even more! Some were also envious of how pretty she looks even without makeup. Do you agree with them?
#4 ChungHa
https://www.instagram.com/p/Bqo3uWHHqTq/?hl=ko
Fans of ChungHa would know that she was known for showing her bare face ever since her appearance as a trainee on Mnet "Produce 101" Season 1! Back then, trainees were envious of how she looked the same after removing her makeup! After her debut, ChungHa has also frequently bare her face.
#5 Apink's NaEun
https://www.instagram.com/p/BqjLxmbh_Sj/?hl=ko
For NaEun, makeup is not really necessary as she looks great even without them. Some time ago, she had posted pictures of her bare fare in a restaurant enjoying a meal. Fans were amazed and impressed by her bare face and hope that she would share more pictures of her without makeup.
Read More : 4 Recent Female Celebrities Stunning With Bare Face