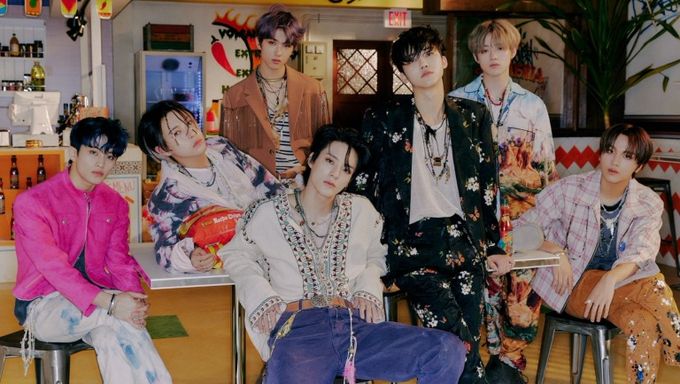 NCT DREAM is back with their latest comeback and first-ever full album, "Hot Sauce". Right off the bat, the first impression one gets from the title of the album itself is that it is going to be fiery, energetic, powerful and intense. The genres that first come to mind when you think about hot sauce is hip-hop and Latin-inspired beats, trap and EDM. Even before going into the album, the listener is pre-programmed to expect these exact vibes owing to the especially potent name of the album. After all, it would be quite silly to expect ballads from an album that is called "Hot Sauce". However, as it turns out, the flavours in NCT DREAM's "Hot Sauce" are rather mild. That is not to say that this album isn't an artistic masterpiece but rather that the title of the album stands for something much deeper than what it seems to represent at first glance. With that said, it is undeniable that there's something about this album that presents NCT DREAM as the fully realized artists they've worked so hard to be.
The first track in the album is titled 'Hot Sauce' and aptly so because the narrative it spins plays with the idea of dismissing all previous notions of candy-coated romance and giving in to the heated passion of love instead. Perhaps it also signifies the group's graduation from being perceived as representatives of innocent youth to the fiery nature of adulthood. As silly as it might seem, the steady background tune echoing the prelude is quite reminiscent of Spice Girls' 'Wannabe' and it might as well have been intentional, considering the similarities in their album title and the name Spice Girls. From the first track itself, Jeno and Mark are making their presence known loud and clear with skill and versatility.
Following the first track, one can only expect the album to keep getting better and better. 'Diggity' almost hits the spot but feels light compared to the intensity of 'Hot Sauce'. The song has all the qualities of a banger, from having some of the best vocals to rap lines and yet, the instrumental doesn't seem to be doing the artists justice.
What was palpably absent in 'Diggity' is made up for in 'Dive Into You'. It is a beautifully youthful song with a catchy hook that's not getting out of your head any time soon. The persistent beat amplifies the drive of the song and once again, the vocals are unmatched. JiSung's deep voice in regular intervals is unbelievably soothing to the ears whereas HaeChan's falsetto is inimitable.
A similar feeling is carried over to the next track, 'My Youth'. If there's any song that could fully and justifiably define NCT DREAM, it would be this one. It is deeply nostalgic for the past and yet hopeful and bright-eyed for the future. There's no way you won't be putting this song on repeat, either to experience the NCT DREAM's golden vocals or to reminisce about your own youth which will most definitely seem to be represented perfectly in this song. The theme of "graduating" from carefree youth to the accountability of adulthood is ever-present in this album.
'Rocket' takes us for a ride in a completely different direction from what we've been used to so far. It is diametrically opposed to 'My Youth' and seems to be taking a detour back to the recklessness of the older days. 'Rocket' sounds like a pop song from the 90s but with the refreshing energy of NCT DREAM peppered in at just the right parts.
'Countdown (3, 2, 1)' is when the heat starts to rise and much like hot sauce itself, you can't help the fact that you keep going in for more. The focus is entirely on the members and the accompaniments do nothing to distract from what's important. What only seemed like a dream is now tangible reality for NCT DREAM.
The rappers in the group own this song without a doubt, especially JaeMin but the vocalists make sure to steal the spotlight now and then.
'ANL' is a tropical masterpiece that is truly a treat for the ears. The constant alternating between genres is proving to be an incredible creative decision with all the songs sounding fresher when the album is listened to all at once. The sugarcoated, sunshine and rainbows kind of love that NCT DREAM does away with in 'Hot Sauce' is very much celebrated in 'ANL'. It is a good old love song, seeing life through rose coloured lenses.
Chenle and RenJun truly shine in the next track, 'Irreplaceable' with vocals comparable to the title of the song itself. At a certain point, it takes almost a choir-like dimension as NCT DREAM worships the beauty of their beloved. Once again, there's a 90s feel to this song as well which is quite welcome.
Remember when we said it would be silly to expect a ballad from an album titled "Hot Sauce"? NCT DREAM takes the notion and turns it right on its head as we're presented an angelic little ballad 'Be There For You', averting all presumptions about NCT DREAM's musical arsenal. With one single album, they effectively prove that they're incredibly capable artists regardless of reservations fans might have about the genres they take on. 'Be There For You' will give you goosebumps down your spine with how magically authentic and beautiful it sounds.
Finally, we have the song that's more for NCT DREAM by NCT DREAM than it is for listeners, 'Rainbow'. It is worth mentioning that RenJun sounds positively nonpareil with his vocals striking just the right chords in our hearts. You can't help but have a tear or two roll down your eyes as NCT DREAM's journey flashes before you with this song as the background. This song makes it clear just how much the members are like family and sonically too, it is one of the most striking songs in their discography which is intensified by how emotionally charged it is. There couldn't have been a better ending note to such a musically diverse album.
NCT DREAM has grown beyond measure and this album is the perfect representation of their journey so far as well the undeniable initiation of the odyssey they have ahead of them. We can't wait to see what NCT DREAM has in store for us next!
Became a fan of NCT DREAM
You can now view more their stories