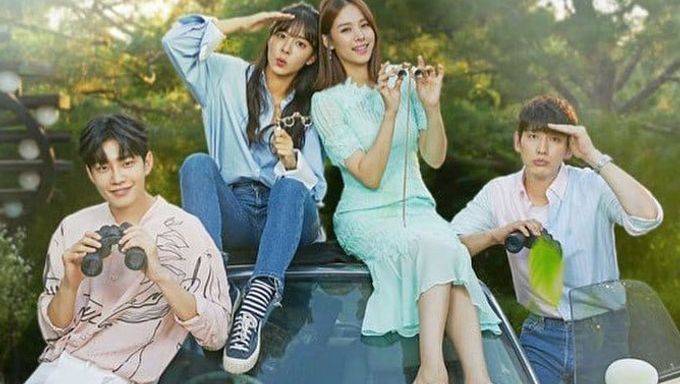 "Beautiful Love, Wonderful Life" is a weekend drama of 100 episodes.
Seol InAh ("Strong Woman Do Bong-Soon"), Kim JaeYoung ("100 Days My Prince", "Dear My Room"), Jo YoonHee ("The Producers", "Lie to Me"), Yoon Park ("Radio Romance", "Legal High"), Oh MinSuk ("The King in Love", "Queen of Mystery 2"), and Jo WooRi ("My ID is Gangnam Beauty") are the lead actors.
In supporting roles, there are Ryu EuiHyun ("A-Teen") and CLC's EunBin.
Here is more information.
Beautiful Love, Wonderful Life (2019)
Information
Title: Beautiful Love, Wonderful Life/Sarangeun byutipul insaengeun wondeopul/사랑은 뷰티풀 인생은 원더풀
Director: Han JunSeo
Writer: Bae YooMi
Network: KBS
Runtime: From Sept. 28
# of Episodes: 100
Language: Korean
Summary
It tells the story of ordinary people who tried to become something but couldn't. They are about to start to love their life again and find happiness.
Cast
Seol InAh as Kim CheongAh
She is the little sister of SeolAh. She is studying for the civil servant exam for 8 years. She is doing part-time to pay her living expenses.
She is a loyal character who has always been seeing harmful things happening in the world that she is living in. She will get involved with Goo JoonHwi who doesn't care about other people's affairs and who is a single "nowadays man".
Kim JaeYoung as Goo JoonHwi
He is a mere clerk but he is an undercover boss and 1st heir to the succession.
He is super rich but he does Dutch pay. He looks cute but is sophisticated. He is for sure handsome. Women are rushing to him but he stays single.
Jo YoonHee as Kim SeolAh
She is a former announcer and is currently married to a chaebol.
She is popular on SNS and many say that she is one of the best married women of the country. However, she is just an expensive doll living in a mansion. She quit her job of announcer to marry in a rich family but because of this, she got to throw-away many things including her family.
Yoon Park as Moon TaeRang
He used to be a popular chef at a luxurious hotel. Now, he is running a small restaurant.
He is a serious and quiet guy.
Oh MinSuk as Do JinWoo
He is a chaebol of third-generation born with a golden spoon. He is a young entrepreneur who brings change and the idea of 'friend like owner'.
Jo WooRi as Moon HaeRang
JinWoo's secretary and Moon TaeRang's sister.
Ryu EuiHyun as Moon PaRang [supporting role]
He is the number 1 in school and a face genius. He is a high school student who dreams to be a powerful Youtuber.
CLC's EunBin as Kim YeonAh [supporting role]
She is a high school girl who is a tennis genius.
Interesting Facts
Here is one of the teasers.
Here are the official posters.
Read More : 9 Upcoming Dramas Of Fall 2019 That You Should Be Waiting For