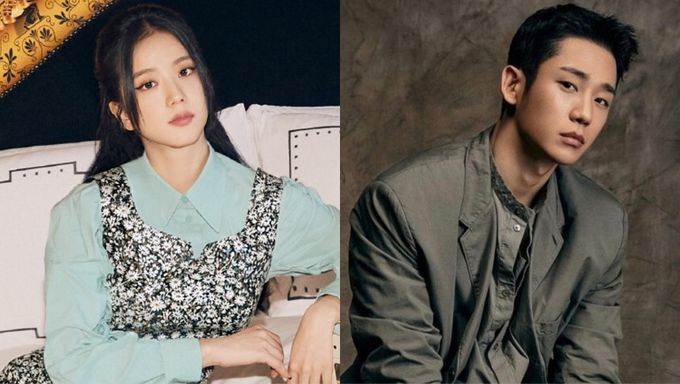 One of the most highly anticipated K-Dramas of 2021 that has been building its hype since 2020, "Snowdrop", starring BLACKPINK's JiSoo and Jung HaeIn has released its first-ever poster. "Snowdrop" is a desperate love story set in Seoul in 1987 of SuHo (Jung HaeIn), a student from a prestigious university who suddenly appeared covered with blood in the women's dormitory, and YoungCho (JiSoo), a university student who hid and treated him in this crisis.
The poster shows the main characters, Im SuHo and Eun YoungCho are seen in the middle of a waltz in a fantastical, dreamy theatre-like setting. It is romantic and mysterious at the same time. Below the post, it says "Coming Soon" with the date, 12.2021 and at the top, it says, "Life's first radiant love blooms". 
Soon after its release, terms like "SNOWDROP IN DECEMBER", #JISOO, #SNOWDROP started trending worldwide on Twitter. In addition, Jung HaeIn followed his co-actor JiSoo on Instagram as well, making fans even more excited about their chemistry in the drama.
Here's how fans are reacting to the poster drop!
Does it ever just how fast
drive you the night
crazy changes

SNOWDROP IN DECEMBER pic.twitter.com/Jk7pqrtIfu

— 𝙎𝙬𝙚𝙚𝙩𝙮𝘾𝙝𝙪 (@jisoovibe_chu) October 5, 2021
THE WAY THEY LOOK AT EACH OTHER???!!#@*???! TDKDNRJ SNOWDROP KDRAMA OF THE YEAR pic.twitter.com/LXYXfLDjqp

— ً (@lisasuprmcy) October 5, 2021
Haein's hand on Jisoo's waist 🥺 Looking fixedly into each other's eyes 🥺 I can't move on from this! 😭 SNOWDROP IN DECEMBER pic.twitter.com/nwxXn4pGUl

— ً (@snowdropsource) October 5, 2021
So today Snowdrop poster dropped and Haein also started following Jisoo on Instagram yeah that's right the Snowdrop era has finally begun

SNOWDROP IN DECEMBER pic.twitter.com/GzCo6VGznO

— ًSNOWDROP IN DEC 𓃺 (@jisoosrule) October 5, 2021
they're in love, your honor i rest my case.

SNOWDROP IN DECEMBER pic.twitter.com/y1EuKTfALr

— haesoo pics (@haesoogallery) October 5, 2021
Are you excited for "Snowdrop"? Share your thoughts with Kpopmap in the comments section down below!