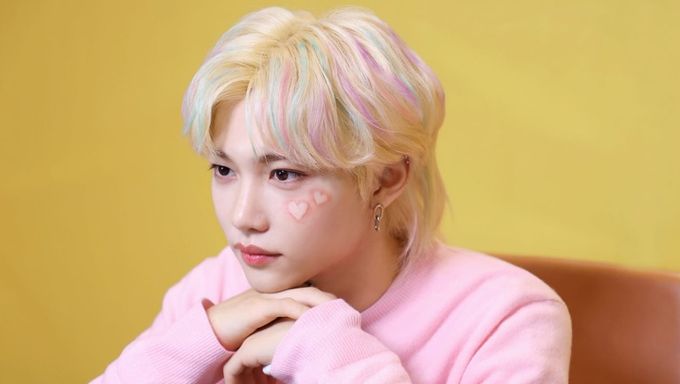 Originating from the Queen herself, SunMi and her makeup doing promotions for 'Noir', the "heart cheek" makeup is back again and it has taken over the K-Pop industry. 
'Noir' era SunMi would still make for an incredible Halloween look that any K-Pop fan would be able to recognize at once! Other idols who are sporting the makeup trend again are Stray Kids' Felix, ATEEZ's SeongHwa, and WonHo!
It gives them a charming and playful look, highlighting a delicate point in their sharp facial features. It is dreamy and sweet, making the idols look even prettier than they already do! 
This would be the perfect makeup look for you to try this Halloween if you are a K-Pop fan. What's better is that it is super easy to create! All you need to do is cut out a heart-shaped piece of paper and place it on your cheeks where you would like the shape to be formed. The hearts can be small like SeongHwa's, prominent like Felix's, or big like WonHo's. Similarly, you can put any number of hearts on either cheek! It all depends on how you would like to recreate the trend.
If you're having trouble keeping the paper heart on your cheek, you can dab a little moisturizer, foundation, concealer, or facial oil on the cheek and stick the paper on the wet spot. After you're satisfied with the placement, simply take a round brush with your preferred shade of blush or eyeshadow and gently pat the edges of your paper heart with the same, with half of the pigment showing up on the paper and half on your cheeks. Once you're done lining the heart, take a pair of tweezers and carefully lift the paper heart. You'll be left with the perfect love hearts on your cheek that will make anyone swoon. 
Are you going to try this makeup trend? Don't forget to tag us in all your lovely photos! Share your thoughts with Kpopmap in the comments section down below!