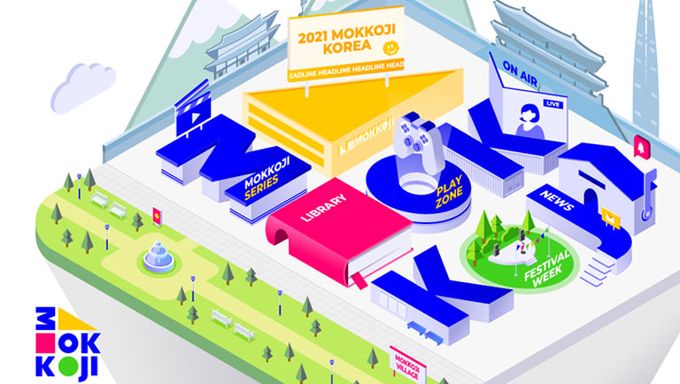 "2021 MOKKOJI KOREA" (hereinafter MOKKOJI KOREA), a global festival that Hallyu fans around the world and popular K-Pop artists such as MONSTA X, THE BOYZ, and PENTAGON create together, will be held online from September 6, Monday, to November 14, Sunday.
* MOKKOJI: Korean word that refers to a gathering of people for a party, entertainment, and other occasions
"MOKKOJI KOREA," hosted by the Ministry of Culture, Sports, and Tourism and the Korean Foundation for International Cultural Exchange (President: Jung Gilhwa, hereinafter KOFICE), is a festival to promote various aspects of Korean culture and lifestyle such as food, fashion, beauty and entertainment to the world. The event was held for the first time last year, and more than 2 million people from 165 countries participated, drawing attention from Hallyu fans around the world.
Russia, India, and Indonesia to be selected as Focus Countries for 2021.
"Festival Week" will be held every month for each Focus Country, starring your favorite K-Pop stars.
Every year, "MOKKOJI KOREA" selects the Focus Countries. This year, Russia, India, and Indonesia were selected as the Focus Countries, and the Festival Week for each country will be held every month from September to November. During the Festival Week, K-Pop artists and YouTube creators based in the Focus Country will broaden Hallyu fans' understanding of Korean culture and lifestyle through special programs such as "MOKKOJI Mini Talk," "MOKKOJI LIVE," and "Online Exhibition," and communicate online in real time. Anyone around the world can participate in Festival Week, and the programs are available in English, Russian, and Indonesian.
Popular K-Pop artists such as THE BOYZ, Lovelyz, and CIX will participate in Festival Week Russia, which will be held from September 6 (Monday) to September 12 (Sunday) to announce the start of "2021 MOKKOJI KOREA." During Festival Week Russia, K-Pop artists will share about Korea's delivery culture, inner beauty, and Chuseok holidays. At "MOKKOJI Live," which will be held at 6:00 p.m. KST on September 12, Sunday, the K-Pop artists will meet local Russians online to exchange cultural references between Korea and Russia and Korea's latest lifestyle trends. In addition, they will provide information on exceptional Korea brands and products that have been introduced to the Russian market through "Mini Talk" and "Online Exhibition" with popular Russian YouTubers, such as Niky Macaleen and RedAutumn.
During the India and Indonesia weeks, K-Pop artists that are popular with the locals such as MONSTA X, PENTAGON, AB6IX, A.C.E, and DREAMCATCHER will participate to showcase various content, providing opportunities to experience Korean life and culture.
Virtual K-Lifestyle Playground created by people around the world
Consists of various content and participatory programs that provide opportunities to experience Hallyu life style and culture
Meanwhile, "MOKKOJI KOREA" presents an online platform where not only Focus Countries but also fans all around the world can learn and enjoy Korean lifestyle and culture together. The "K-Lifestyle Playground" platform will provide opportunities for Hallyu lovers around the world to exchange opinions on Korean culture through participatory content such as "MOKKOJI Contest," "Online Game," "K-Lifestyle Wiki," and "K-Lifestyle Webzine."
Appearing for the very first time, web drama "MOKKOJI KITCHEN" and webtoon "The First Spring with You" is content that portrays lifestyle, culture, and mindset of Koreans to global fans. "MOKKOJI KITCHEN" will premiere on September 6 (Monday) and feature K-Pop artist Gongchan from B1A4. He will play Chef Muyoung, the sole owner of his own Korean restaurant, and captivate Hallyu fans' hearts.
"MOKKOJI KOREA, held for the second time this year, along with more abundant content such as web dramas and webtoons, has greatly expanded opportunities for two-way communication so that more participants can enjoy and interact with each other," said Jung Gilhwa, president of the KOFICE. "I hope that K-Pop artists and Hallyu fans around the world can truly share what's in their hearts through MOKKOJI KOREA's exclusive cultural exchange program that goes beyond Hallyu," he added.
The main programs and schedules for "MOKKOJI KOREA" can be found on the website, and they are provided in English for Hallyu fans around the world for their convenience and easier access.