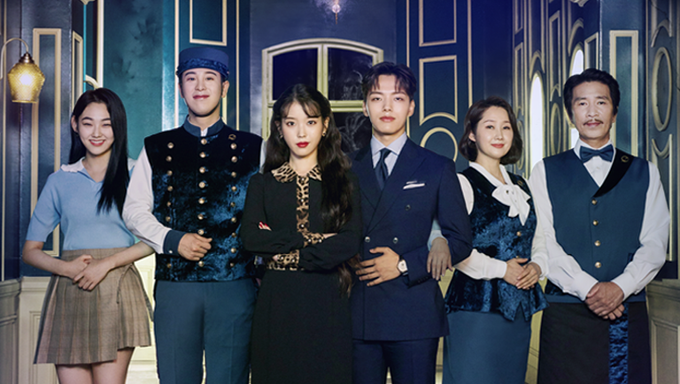 "Hotel Del Luna" is a fantasy drama with ghosts.
Popular actress and singer IU is the lead actress. She is well-known for her acting in dramas such as "Dream High" (2011), "Moon Lovers: Scarlet Heart Ryeo" (2016), and "My Mister" (2018). Yeo JinGoo is the lead actor. The actor is known for his great acting. He acted in dramas such as "Orange Marmalade" (2015), "The Royal Gambler" (2016), "Circle" (2017), "Reunited Worlds" (2017), and "The Crowned Clown" (2019).
Many are curious to know more about their chemistry.
Hong Sisters are writers of this drama, they are famous among K-Drama fans for their style in rom-com. They have written several popular dramas such as "My Girl" (2005), "You're Beautiful" (2009), "My Girlfriend is a Gumiho" (2010), "Master's Sun" (2013), and "Hwayugi" (2017).
Here is more information.
Hotel Del Luna (2019)
Information
Title: Hotel Del Luna/Hotel Delluna/ 호텔 델루나
Director: Oh ChungHwan
Writer: Hong Sisters (Hong JungEun and Hong MiRan)
Network: tvN
Runtime: From July 13 2019
# of Episodes: 16
Language: Korean
Summary
It tells the story of an elite hotelier that gets to run the Hotel Del Luna by a fateful event. Because of this, he got to run the hotel with the beautiful and aloof but ill-tempered boss. Hotel Del Luna is a hotel in downtown Seoul. It is looking old and shady from the outside but it is a fancy place for wandering ghosts. They are the only one to see the place as amazing.
Cast
IU as Jang ManWol
Jang ManWol is punished after she has done a huge crime. She is forced to stay at Hotel Del Luna where she is the boss. She looks gorgeous and aloof. However, her personality is not so good. She is ill-tempered, greedy, and luxurious.
Yeo JinGoo as Goo ChanSung
An elite hotelier. He is meticulous, perfectionist, rational and cool-headed but he has a weak heart. His CV is great as he worked hard for it. He was the youngest assistant manager of a multinational hotel company. He was doing great until an unexpected reason made him become the manager of the Hotel Del Luna.
Bae HaeSun as Choi SeoHee
She has been working 200 years in the Hotel Del Luna.
Shin JungGeun as Kim SeonBi
He is the bartender at the Hotel Del Luna. He has been working there for 500 years. He is the employee who has been working the longest at the hotel.
Gugudan's MiNa as Kim YuNa
She is an intern at the Hotel Del Luna. She is a smart high school girl who has a sad hidden story.
Block B's P.O as Ji HyunJoong
He is the frontman at the Hotel Del Luna. He died during the Korean War. He has been working for around 70 years. He is polite and kind but he hates to work.
Jo HyunChul as Sanchez
He is Goo ChanSung's roommate. He has a pizza chain with restaurants all over the world. He has no spiritual ability so he cannot see the true nature of the hotel and Jang ManWol.
Interesting Facts
Here is the first teaser.
Here are the posters.
Read More : IU Immediately Apologizes On Camera For Mentioning Wanna One's Kang Daniel