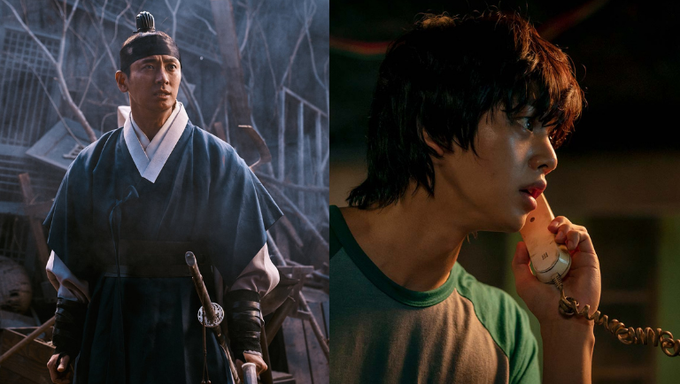 K-Dramas are known mostly for their typical tropes such as dramatic plot twists, second lead syndrome, slow-motion kisses and passes by, etc. But sometimes you're just not in the mood to watch a love story. Don't worry, we've got you covered! There is a world of different genres within the K-Drama genre spectrum.
This list features some of the best K-Dramas without romance to watch when you're in the mood for a thriller. If you'd like some recommendations for other K-Drama genres, you can also check out our lists for best fantasy romances, best action-thriller romances, and even recent historical dramas.
Whether you are a crime drama/true crime fan, horror lover,  or simply need a break from romance, these K-Dramas are a must on your watchlist.
1. "Kingdom"
When: 2019 
Summary: "Kingdom" is a historical horror thriller that was Netflix's first original Korean drama. The drama follows the story of Crown Prince Lee Chang (played by Ju JiHoon) during the Joseon dynasty. He encounters a zombie plague amidst a season of political intrigue and conspiracy.
Why watch?: This drama has a unique concept, placing zombies in a historical period setting. It's also based on a webtoon called "Kingdom of the Gods," so you have more content to enjoy if you can't get enough of it!
(The third part/sidequel of "Kingdom," is also recommended as a 2021 historical drama to watch).
2. "Sweet Home"
When: 2020
Cast: Song Kang, Lee JinWook
Summary: "Sweet Home," stars Cha HyunSoo played by, Song Kang, who is a suicidal teenage boy who loses his family in a car accident. He moves into an apartment pestered by humans that have turned into monsters that reflect their darkest desires. It is a survival story.
Why watch?: Everyone loves a good apocalyptic watch, even better when it's an apocalyptic horror. Song Kang also shows us a different side to his acting. It also has a webtoon, by the same name, if you can't get enough of the show!
3. "Search"
When: 2020
Cast: Jang DongYoon, Krystal
Summary: A dead soldier comes back to life after being attacked by a nondescript creature in the DMZ. A special task force must figure out what happened.
Why watch?: In this completely unpredictable situation, it should be interesting to see how they resolve the mystery. It also features Krystal in a very different role from what we have seen before.
4. "Mouse"
When: 2021
Cast: Lee SeungGi, Lee HeeJoon
Summary: "Mouse," is about Jeong BaReum (played by Lee SeungGi), a determined policeman, who encounters a psychotic serial killer. This forces him to look into psychotic behaviors, with the assistance of his partner Go MooChi (played by Lee HeeJoon). They end up deeply researching matters such as whether it is possible to genetically test for psychopathy in unborn children.
Why watch?: It questions the idea of redemption for psychopaths, which makes for an interesting psychological aspect. The police partners also have different methods for decision-making, which makes for a fun character dynamic. Viewers also get to feel like they're piecing the case together themselves, as the clues come out little by little.
5. "Lookout"
When: 2017
Cast: Lee SiYoung, Kim YoungKwang, Kim TaeHoon, Kim SeulGi, SHINee's Key
Summary: Also known as "The Guardians," "Lookout," is all about five ordinary people who band together to get justice themselves after losing family members to crime. They are vigilantes. They comprise a detective, two prosecutors, a hacker, and an insomniac.
Why watch?: The best thing about ensemble casts, especially in this kind of vigilante drama, is that each character creates a new dynamic and it makes for an interesting watch.
6. "Taxi Driver"
When: 2021
Cast: Lee JeHoon, Esom
Summary: "Taxi Driver," tells the story of Kim DoGi (played by Lee JeHoon), who is a Korea Military Academy graduate who lost his mother when he was younger. She was murdered. He works as a taxi driver, but his taxi company is a little bit different. They have a 'revenge-call' service for some of their clients.
Why watch?: It tells the story of the classic revenge storyline and is based on several true historical events that have happened in Korea. It has elements of real Korean history/true crime in it, which means that it can teach viewers more about the real Korean perspective. It is also based on the webtoon, "Deluxe Taxi," so you can read that if you can't get enough of the drama. 
7. "Times"
When: 2021
Cast: Lee SeoJin, Lee JooYoung, Kim YoungChul
Summary: "Times," is about Lee JinWoo (played by Lee SeoJin) and Seo JungIn (played by Lee SeoJin) who are reporters from different years. Lee JinWoo lives in 2015 and Seo JungIn lives in 2020. They discover that they can communicate by phone call and work together to prevent the murder of the South Korean president, Seo JungIn's father Seo GiTae (played by Kim YoungChul).
Why watch?: It is a crime story with a time travel element. It should be interesting to see how to prevent a crime from happening over different storylines. 
8. "Defendant"
When: 2017
Cast: JiSung, Uhm KiJoon
Summary: Also known as, "Innocent Defendant," this drama is about Park JungWoo (played by JiSung) who is a prosecutor at the Seoul Central District Prosecutor's Office that finds himself on death row. Due to memory loss, he has no idea how he ended up in prison and struggles to clear his name. 
Why watch?: There is a major plot twist related to the protagonist's amnesia and how he came to be charged with the crime. If you enjoy legal K-Dramas with a twist, this one is for you.
9. "Stranger"
When: 2017
Cast: Bae DooNa, Cho SeungWoo 
Summary: Hwang ShiMok (played by Cho SeungWoo) is an emotionless prosecutor who, after realizing the corruption of a dead prosecutor, decides to launch an investigation into the Seoul prosecution offices. Han YeoJin (played by Bae DooNa) is a passionate detective who helps him expose more corruption by solving a teenage murder case.
Why watch?: The protagonist is emotionless, which means we get to see him unravel corrupt dealings from a purely objective standpoint. You can also binge season 1 and then start season 2, "Stranger 2," if you can't get enough of this drama.
10. "Signal"
When: 2016
Cast: Lee JeHoon, Kim HyeSoo, Choi JinWoong
Summary: HaeYoung (played by Lee JeHoon) is a rookie profiler who becomes a police lieutenant despite himself. He discovers a walkie-talkie that allows him to communicate with a police detective who has been missing for several years. This detective is in a different year whenever they speak, meaning HaeYoung has to piece together a timeline. Another detective, Cha SooHyun (played by Kim HyeSoo), assists on the case whilst grieving the disappearance of her first love.
Why watch?: This drama is critically acclaimed because it is based on a true crime that happened in Korea. It's a good choice for true crime junkies. It also shows police procedures in a new light by dissecting them. There is mention of first love, but it is not an integral part of the storyline. 
What is the best thriller K-Dramas without romance according to you?
※You can vote multiple times without sign in.
It's great to know that there are K-Dramas out there for every mood and desired genre. Do you have any additions to add to this watchlist?