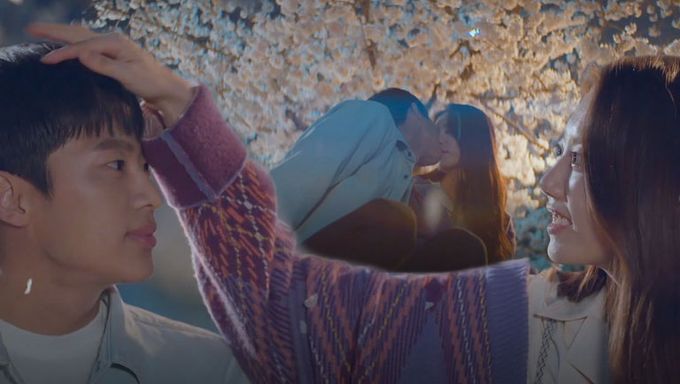 Have you been watching dramas these days? If not, you are missing many great scenes! If you like romance, this weekly Kpopmap series might be for you.
Be aware of major spoilers from episodes that aired this week. 
We made a selection of scenes from K-Dramas from this week that will make your heart flutter by their cuteness and romantic vibes and will make you want to fall in love. These scenes are the sweetest of this week. No more words, here is the list!
Let us know in the comment which scene you prefer and/or what is the sweetest scene of this week episodes according to you.
If you missed last's week choice, check it here.
Lee JaeWook and Yang HyeJi as Lee JangWoo and Ji EunSil
In "When the Weather is Fine", Lee JaeWook's love line is interesting to a lot of viewers. Lee JaeWook has been loving the same girl since high school. It is a one-sided love but everyone knows about his feelings. Yang HyeJi also knows he likes her and she likes to tease him.
In the selected scene, Lee JaeWook and Yang HyeJi were helping some people of the village. She was in the kitchen alone and called him to come in. He was already panicking -as usual. She started to feed him food directly to his mouth while asking about the taste.
At the moment she was going to slap him for teasing her about the food taste, she suddenly slipped but he caught her in her fall. Looking at each other eyes, she noticed and said that his arms were muscular.
Awkwardly, he added that his legs were also muscular while not leaving his eyes from her. Yang HyeJi said: "That is nice. I mean ... this is nice for you" in an embarrassed move.
2- "A Piece of Your Mind"
Jung HaeIn and Chae SooBin as HaWon and Han SeoWo
Jung HaeIn and Chae SooBin are getting closer and closer episodes after episodes. Chae SooBin likes him and he started to develop feelings for her. Jung HaeIn started to be more and more direct about his growing feelings for Chae SooBin.
In the selected scene, Jung HaeIn was calling Chae SooBin. He just realized that the way to cure his insomnia was to have Chae SooBin by his side at night.
Calling her, he explained somehow the situation and said with his soft romantic voice: "I think someone has to stay with me to be able to fall asleep. Can you stay with me now? I miss you."
3- "Meow, the Secret Boy"
Kim MyungSoo (INFINITE's L) and Shin YeEun as HongJo and SolAh
Kim MyungSoo and Shin YeEun are developing feelings for each other while living under the same roof. Kim MyungSoo is Shin YeEun's cat who transforms into a human. However, she thinks that he is her step-brother and that is bothering her to make a step further into their romance.
In the selected scene, Shin YeEun confessed to her cat that she wished the man she likes was not her step-brother and if that was the case she would go and kissed him right now. As a conclusion to her speech, she kissed the cat -that is actually the man she loves. Kim MyungSoo hearing her heart with his cat forms decided to tell her that he was not her step-brother.
In his human form, he helped her climb the roof of the house (he is a cat after all) and they sat under the moonlight. Kim MyungSoo then told her that he was not her step-brother. As she started to blush intensely, he approached her smoothly to kiss on a romantic OST.
4- "Best Mistake 2"
THE MAN BLK's Choe ChanYi and Yang YuJin as Jung JiSung and Yoon ARa
Choe ChanYi was not that interested in girls but he finally found the one for him and proved to the viewers that he has a cute heart.
In the selected scene, at school, Choe ChanYi was going to his classroom saying that once he found his ideal type he will be the wold's no.1 romanticist. This was when he saw Yang YuJin standing in front of his classroom.
Choe ChanYi fell in love at first sight, stunned on the spot. He kept looking at her while smiling.
5- "How To Buy A Friend"
Lee ShinYoung and former I.O.I's Kim SoHye as Park ChanHong and Eom SeYoon
Lee ShinYoung and Kim SoHye are attending the same high school and they finally became a couple. They both have true feelings for each other.
In the selected scene, the flower petals were falling on Lee ShinYoung and Kim SoHye at night. They had their first kiss on a soft OST highlighting both innocent and heart fluttering first love. While smiling, they kept removing the petals stuck on the other's hair.
It was his first kiss and he felt that the world had stopped and that he will never be able to forget about it all his life.
6- "Memorist"
Yoo SeungHo and Kang MinAh as Dong Baek and Cho Won
"Memorist" is not focused on romance but viewers got a glimpse at Yoo SeungHo's first love in his high school time. He had someone special for him -Kang MinAh- as she knew about his supernatural skills.
The selected scene is Yoo SeungHo (as DongBaek)'s first-ever kiss scene in his life. The two high school students were sitting on a bench and talking at night. He started to gain the courage to grab her hands but failed. He confessed that things were not going as he wanted with her.
In the end, she was the one that approached him first and got closer to his lips before kissing him.
If you missed last's week choice, check it here.
Stay tuned for next week's choice! It is every Friday on Kpopmap.
Read More : Top 23 Most Followed Korean Actresses On Instagram & 70 Other Actresses' Instagram