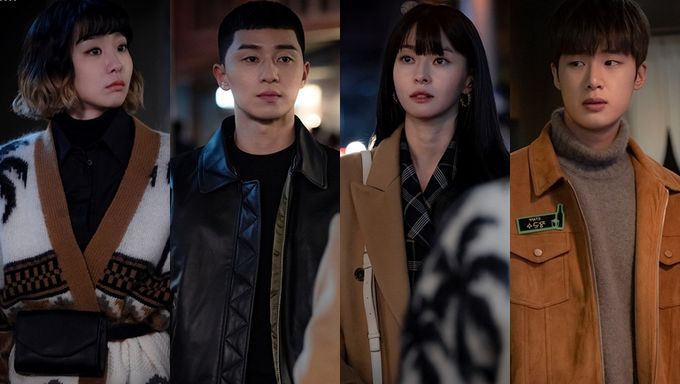 "Itaewon Class" is dealing with a lot of serious issues and dark subjects. However, it is also a romance drama!
There are not three but five characters linked by romantic feelings: Park SeoJoon as Park SaeRoy, Kim DaMi as Jo YiSeo, Kwon NaRa as Oh SooAh, Kim DongHee as Jang KeunSoo, and Ahn BoHyun as Jang GeunWon. The relation between all these characters is not simple at all.
The drama has already 12 episodes but the couples are yet to be fixed. Not everyone is supporting the same couples, so it is time to vote and see who is gaining the most support.
When Kpopmap held the poll for "Arthdal Chronicles", the result was surprisingly tied between the two main male characters. The result might be surprising this time too.
Small spoilers ahead.
1- Park SaeRoy
Park SaeRoy has never dated. Since his father passed away, he has been very busy with his revenge, earning money, and starting his business. He is in love with only one girl and that since high school. He is all-in into Oh SooAh and confessed to her several times. However, his heart also seems to start beating for Kim DaMi.
Who do you prefer Park SaeRoy to date?
※You can vote multiple times without sign in.
2- Jo YiSeo
Jo YiSeo is all-in for Park SaeRoy. She decided to not go to university and bet her whole life on Park SaeRoy's business. The girl loves Park SaeRoy and is decided to kick Oh SooAh out from his life. However, viewers are also shipping her with Jang KeunSoo who has a one-sided love for her. He is even too extreme in his attempt to get her love and attention.
Who do you prefer Jo YiSeo to date?
※You can vote multiple times without sign in.
3- Oh SooAh
Oh SooAh also seems to love Park SaeRoy but not all the viewers are fan of her. She is hurting Park SaeRoy -even if she does not always mean it. Oh SooAh has also another man in love with her: Jang KeunWon. He is a coward and a criminal however his character is not all dark and dirty. Some viewers find his long time one-sided love for Oh SooAh sweet.
Who do you prefer Oh SooAh to date?
※You can vote multiple times without sign in.
Are you surprised by the current results? How do you think the drama will end?