"Melting Hearts" series is back with a new actor to introduce. This week the spotlight is on Ahn BoHyun acting in "Itaewon Class".
To be clear in no way his character in "Itaewon Class" is "melting hearts". Jang GeunWon (Ahn BoHyun) is an abusive and criminal character. Viewers of drama can only see him as a villain.
However, the actor is literally stunning with his portrayal of his character. There are for sure a lot of viewers who have been impressed with his acting skills. I got more than one goosebump watching his character.
This is why this week we will look at this actor who has yet to gain more popularity.
To start with basic information, Ahn BoHyun was born in 1988 in Busan. He is part of FN entertainment home of Im SooHyang and more. After modeling activities, he debuted in 2016 as an actor in the movie "Hiya".
On "Radio Star", Ahn BoHyun explained that he was a boxer from his first year of middle school to his last year of high school. He also revealed that he got a gold medal in a national competition for amateur boxers in middle school and high school.
The actor of 187cm has kept his muscular body of an athlete.
If you think you've seen the actor for the first time in "Itaewon Class", you are probably wrong as he appeared in popular dramas before.
In "Descendants of the Sun", he was part of the Team Alpha and in "Her Private Life" he was the friend (with a one-sided crush) of Park MinYoung. In these dramas, he showed completely different images from "Itaewon Class" proving he is a skilled actor who can take various roles.
You can follow the actor on his V-Live, or Instagram.
https://www.instagram.com/p/B62fmXunovL/
Did the actor also impress you?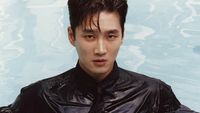 Became a fan of Ahn BoHyun
You can now view more their stories