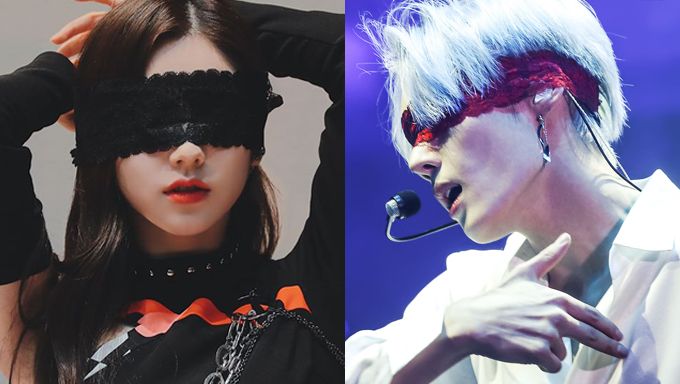 One reason why K-Pop is so appealing to so many is not just because of their catchy tunes, dance moves and extraordinary visuals but also because of the variety of genres. K-Pop idols stretch their potential and pull off different concepts given to them.
It has gotten the attention of Kpopmap that for the past few years, many K-Pop idols are exploring different styles and one of the well-received concepts is none other than using a blindfold.
Not only does it make the idol looks mysterious and sexy, it also gave them a different image which fans could barely see often.
Let's take a look at the idols below!
#1 BTS's JiMin
BTS's JiMin is well known for his dance moves and when he had appeared with a crimson red blindfold during the 2016 "Mnet Asian Music Awards",  he had taken the breath away of ARMY.
#2 LOONA's HeeJin
LOONA had just returned with their new title track 'So What' and many of their fans were surprised to see her covering her eyes with a blindfold during a fansign event!
#3 VICTON's SeJun
During VICTON's 1st solo concert, SeJun had covered 'River' for his solo stage. Fans were shocked and surprised by his daring concept especially when he had appeared with a red laced blindfold.
#4 VIXX
VIXX is the idol group out there who had been exploring with a wide range of concepts. One of the concepts which they had done some time ago was using lace blindfolds.
#5 SF9's TaeYang 
2 years ago during SF9 concert, main dancer TaeYang had caused many FANTASY to have their heart skipped a beat because of how he had appeared on stage. Many commented that he looked sexy and really charming with the blindfold.
#6 MONSTA X's KiHyun
MONSTA X 's KiHyun was the only one wearing a blindfold over his eyes in the music video for 'SHINE FOREVER' and many MONBEBE mentioned that there is reason behind that too. Did you manage to follow the story line?
#7 EXO's Kai
It is a sin if Kai was not on this list but thank goodness he is. During his performance, Kai once again managed to impress many especially when he had a blindfold on. He looked sexy, causing many EXO-L to gasp.
#8 ATEEZ's WooYoung
ATEEZ's WooYoung happened to have a blindfold over his eyes too during a fansign that took place a while ago. Many fans were loving it and also mentioned how he looked charismatic with it.
Read More : GFriend's Outfits For 'Crossroads' Receive Positive Attention From Netizens