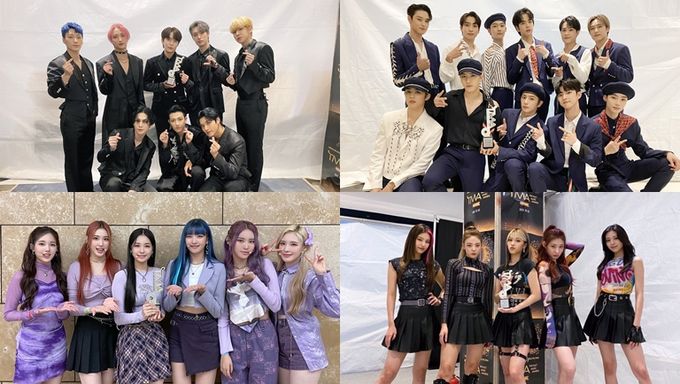 The Fact Music Awards 2021 (TMA) was held on Oct. 2. The lineup of the award ceremony had caught the attention of K-Pop fans but also drama fans with its stars-filled line-up. 
From the red carpet, the hottest idols of the moment appeared on the show. It included BTS, SUPER JUNIOR, SEVENTEEN, Brave Girls, OH MY GIRL, ITZY, Stray Kids, THE BOYZ, ATEEZ, ASTRO, STAYC, ENHYPEN, Kang Daniel, Weeekly, CRAVITY, Lim YoungWoong, and Hwang ChiYeul. 
The award presenters were also composed of popular Hallyu actors such as Lee DoHyun, Ahn HyoSeop, Park HaeJin, Kim SeonHo, Kim SoYeon, Park HyungSik, Lee JaeWook, Na InWoo, Gong Myung, Kim Bum, Nam JiHyun, and much more. They act in popular dramas that aired or are airing. Some are also cast for highly awaited dramas. They had the honor to give the awards to the idols. Check out here for the whole list of the winners. BTS won the Daesang (Grand Prize) for the fourth time in a row. 
Aside from the awards, the idols had prepared a lot of exciting stages. Brave Girls opened the stage with their hit song 'Rollin'' and their new release 'Chi Mat Ba Ram' and took us on summer beach holidays.
ENHYPEN was next with 'FEVER and 'Drunk-Dazed' and lit the stage with their perfect synchronization. 
The cute girls of STAYC prepared a cheerleading introduction, 'STEREOTYPE', and 'ASAP'. 
ATEEZ put the stage on fire with 'I'm The One', followed by their recent release 'Eternal Sunshine' and 'Deja Vu'.
The lovely girls of Weeekly performed the songs 'Holiday Party' and 'After School' on a colorful stage.
CRAVITY brought their energy on stage with 'Gas Pedal' and 'VENI VIDI VICI'.
THE BOYZ made viewers smile at their bright energy for their latest release 'THRILL RIDE' and JuYeon's water show. 
SUPER JUNIOR had prepared a lot for their fans with three songs: 'House Party', 'Black Suit' and 'Devil' and HeeChul special 'Sorry Sorry' drum performance. 
Kang Daniel brought us into his dark nightmares for 'PARANOIA'.
Lim YoungWoong melted viewers' ears with his trot songs 'My Starry Love' and 'Trust in Me'.
ASTRO looked dazzling in white suits and performed 'ONE' and 'After Midnight'.
OH MY GIRL looked like angels with their white outfits and voices for 'QUEST' and 'Dun Dun Dance'.
Hwang ChiYeul sang 'Two Letters' and 'Too Late' with his perfect soft vocals. 
Stray Kids had prepared four stages out of their latest release -including units- with 'Surfin'', 'Gone Away', 'Red Light', and 'Thunderous'. 
The strong girls of ITZY performed to 'In the Morning', 'Sorry Not Sorry' and their latest song 'LOCO'. 
SEVENTEEN fascinated the viewers with their 'Ready to Love' and 'Anyone' performances. 
BTS closed the show with 'Boy With Luv', 'Butter', and 'Permission to Dance', giving positive vibes. 
This year TMA was filled with captivating stages!
Kpopmap was in charge of the streaming and marketing for North and South America. In the future too, Kpopmap will work to export more festivals, concerts, and award ceremonies to global fans. 
Do you have a favorite stage?