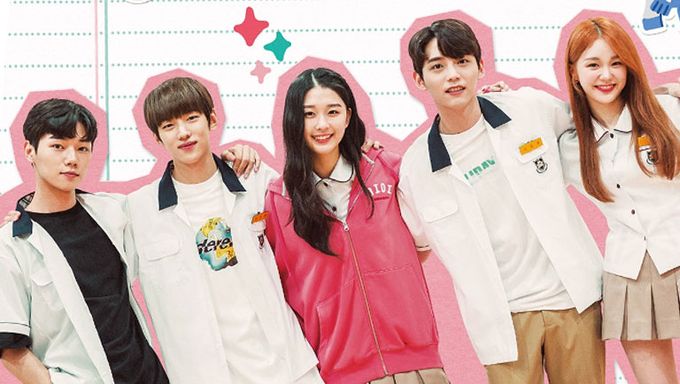 "No Going Back Romance" (or "No Turning Back") is a teen romance web drama.
HOTSHOT's Yoon San, Lee DaYeon, DONGKIZ's JaeChan, THE MAN BLK's Kang TaeWoo, and WOO!AH!'s NaNa are the lead actors. They are all rookie actors with few or none acting experience.
You can easily watch the web drama on LALA Studio V-Live (from Dec. 8) or YouTube (From Dec. 21) with subtitles. Check the links at the end of the article.
Here is more information.
No Going Back Romance (2020)
Information
Title: No Going Back Romance / No Turning Back / Noppakku romaenseu / 노빠꾸 로맨스
Director: Lee TaeKyung
Writer: Lee SongEun, Ko ByungWoo
Network: LALA Studio V-Live, YouTube, Naver TV
Runtime: From Dec. 8
# of Episodes: 10
Genre: Teen Romance
Language: Korean
Summary
It is the teen romance of the sixteen-year-old girl SoDam who has never dated before and received her first-ever love confession from a mysterious boy. She is looking for the boy who secretly confessed to her.
Cast
HOTSHOT's Yoon San as Park JiHoo
JiHoo is usually like a bear but when he is leading something he shows his manly charms. He has double charms and he is the ace of the Judo Team.
Lee DaYeon as Han SoDam
SoDam has a 4D personally. She is sixteen-year-old and has never dated before. She looks cute but she has some peculiarities that are changing this perception.
DONGKIZ's JaeChan as Jung HanGyeol
HanGyeol is handsome and is living an exemplary lifestyle. He is popular with his sweet and mature personality.
THE MAN BLK's Kang TaeWoo as Joo InHyuk
InHyuk is the best friend of JiHoo and he is part of the Judo team. He is attracting women with his unintentional mysterious vibes. But actually, he is not interested in others and dating.
woo!ah!'s NaNa as Choi BoNa
BoNa is the best friend of SoDam. She is an active, easy-going, and cute goddess. She is the "real kid" of these days who is risking her life to manage her visual, image, and followers.
Teaser & Poster
Here is the teaser.
Here are the official posters.
Links
LALA Studio V-Live, LALA Studio YouTube
Read More : Best 4 Web Dramas Not To Miss This November
Read More : Top 12 Best Romance Korean Web Dramas To Have On Your Watchlist