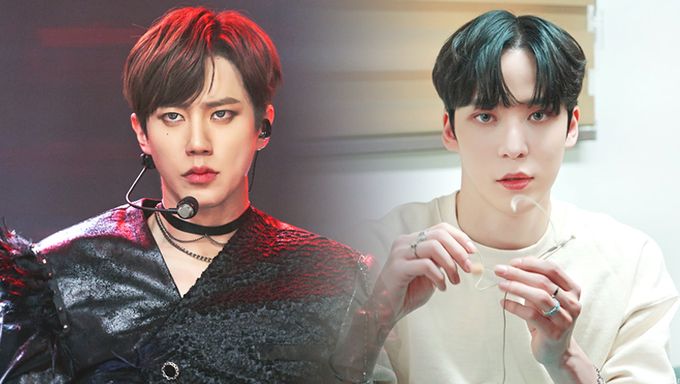 Welcome back to our love triangle series!
There is a new exciting love triangle in the K-Pop idols world of "Imitation" based on webtoon. Jung JiSo (acting as Tea Party's MaHa) is at the center of the love triangle with U-KISS's Jun (Lee JunYoung) (acting as SHAX's Kwon Ryuk) and ATEEZ's YunHo (acting as SPARKLING's YuJin) in love with her.
With the most recent episode (episode 5), their love triangle is all settled! The two men have different personalities and ways of interacting with MaHa. However, their common point is their obvious feelings for her.
The two leads are charming and caring about Jung JiSo in their own way so viewers are divided on who they would like MaHa to date.
Vote and join the debate in the comments on who -according to you- should MaHa choose.
With only one episode a week, we are waiting for more about their love story. If only it was two episodes a week!
Note: The article is solely based on the drama and not the webtoon. Be aware of the spoilers (up to ep 5 only).  
U-KISS's Jun & Jung JiSo
SHAX's Kwon Ryuk & Tea Party's MaHa [Team Kwon Ryuk]
#Tsundere #CaringBehind #CrazyInLoveForTheFirstTime
Kwon Ryuk is a charismatic and cold-looking member of the top group SHAX.
Before becoming a trainee in his current agency, he met MaHa while dancing in the streets as she kept on spying on his group performances. Years later, Kwon Ryuk and MaHa met again after she debuted in the idol and acting world.
From then, the two idols kept on bumping into each other. Kwon Ryuk was mainly cold to her at first. However, he started to fall in love with her and to care about her behind. It all started when she was left alone at the filming set and he gave her his jacket and walked with her to the town.
Kwon Ryuk has no dating experience and clearly has issues expressing his feelings for MaHa (for now). But he is slowly losing his iron wall and opening his heart to her. Viewers' hearts melted when he started to smile.
After sharing heart-fluttering moments with MaHa in the recent episode, Kwon Ryuk realized that he had romantic feelings for her and made viewers burst into laughter with his awkward and cute moves to text and call her way too much. He was also asking for dating advice from other members pretending that it was for a "friend" and by "A and B".
His "condition" is so serious that he started to have visions of her in his bathroom while brushing his teeth and also ended up smiling while thinking about the time they met when he was dancing in the streets.
Kwon Ryuk in love with MaHa is adorable and he seems like he would be a nice boyfriend, contrary to the first episodes where he was ruder to her. Their romance seems to be blooming with how he smiled at her at the end of the episode.
Will they date? Will Kwon Ryuk be able to hide his feelings from his agency?
ATEEZ's YunHo & Jung JiSo
SPARKLING's YuJin & Tea Party's MaHa [Team YuJin]
#Puppy #Sweet #AlwaysByHerSide
On the other side, YuJin is far from being cold to MaHa and is stealing the hearts of viewers with his eyes filled with love and sweet smiles.
YuJin is a member of the idol group SPARKLING and trained with MaHa. He is sweet, kind, and cute. They know each other perfectly and are close friends. YuJin is always here for her at any time.
He was the one who picked up MaHa far and late at night knowing that he will be in trouble for it. She did not even call him but because he was worried, he drove all the way to her filming set and managed to find her in the streets. YuJin has also been cheering on her several times.
However, YuJin can also turn into a fierce guy if he needs to defend her. You will remember when he went to SHAX's waiting room to complain about rookies (including Tea Party)'s reduced' broadcasting time because of them.
YuJin is trustable and he would do an amazing boyfriend because MaHa comes first before anything else. When he received his first salary in three years, he invited her and her group to a fancy diner.
However, MaHa sees YuJin as a long-time and close friend and nothing more (apparently). In the most recent episodes, he noticed that he was losing her and is getting ready to get her back.
Also, some fans of the drama think he would do a better couple with Tea Party's HyunJi (acted by ex-PRISTIN's Lim NaYoung). She has a one-sided love for him.
Will YuJin be able to confess his feelings to MaHa?
Are you Team Kwon Ryuk or Team YuJin?
※You can vote multiple times without sign in.
Note: The vote will stay open (no voting period). The vote is just for fun.
If you are want to discuss other love triangles, you can check our previous vote and articles on "True Beauty" love triangle, "Start-Up" love triangle, "Love Alarm" love triangle, "More Than Friends" love triangle, "Born Again" love triangle, "My First First Love" love triangle, "A-Teen 2" love triangle, and more.