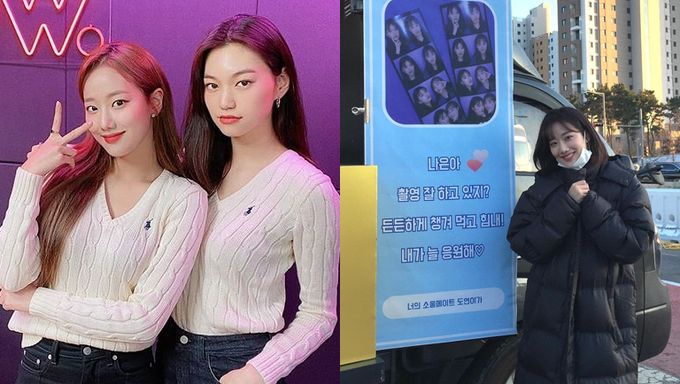 Did you know about the close friendship between April's NaEun and Weki Meki's DoYeon?
Previously, Kpopmap had talked about their friendship with each other and it seemed like it had never changed and the two girls are still close with one another.
On Feb. 16, NaEun had shared pictures of the coffee truck which DoYeon had sent to her.
NaEun was seen smiling happily beside the coffee truck and thanked DoYeon for the amazing gift.
On the banner, DoYeon had also left a sweet message for NaEun saying, "NaEun-ah, are you filming well? Make sure you eat well and gain strength! I will always support you".
For those who might not know, NaEun is currently filming for the upcoming SBS drama "Taxi Driver", estimate to air some time in April.
Seeing the friendship between the two of them, fans could not help but went 'aww'. They love the interaction between the two girls and could not wait to see them hang out with each other in the future.
Are you loving the friendship between the two girls?