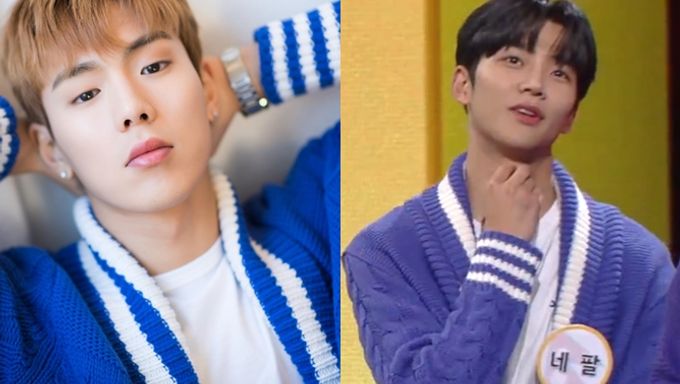 MONSTA X's ShowNu and SF9's RoWoon wore the same cardigan.
The cardigan is from MSKN2ND called Shawl Collar Long Cardigan Blue. It costs approximately USD246.
MONSTA X's ShowNu wore the outfit for Dispatch x Naver pictures -released on Feb. 21- as well as on V-Live x Dispatch video of the same day.
With the cardigan, he wore a white t-shirt, white sneakers, and slim blue denim jeans. The idol accessorized the outfit with earrings and a watch. Moreover, he had soft makeup and light dyed hair. The cardigan somehow highlights ShowNu's large shoulders and muscular body.
On the overall, he looks manly and mature with softness. The leader looks like a cute bear that you can trust.
SF9's RoWoon wore the cardigan on the show "Battle Trip" where he appeared from Feb. 2 to Feb. 23.
Like ShowNu, RoWoon had a white t-shirt and white sneakers but he wore loose black pants. He also had no accessory with natural makeup and undyed hair. RoWoon looked innocent and simple. ShowNu (181 cm) is tall but cannot beat RoWoon's tall model height (192 cm, officially 189 cm), the cardigan is long and its length is well managed by RoWoon.
On the overall, RoWoon has a fresh and innocent model look.
Both look amazing! The cardigan looked different on both idols as their body type and personality are different. Both did look cute and sweet with this boyfriend fashion. The main difference in their outfit were the pants and accessories. ShowNu is famous for his manly and mature attitude while RoWoon is known for being talkative and cute and somehow the way they wore the cardigan shows the difference.
Who wore it better?
Share your thoughts in the poll and in the comment section!

Read More : Who Wore It Better BoA Or (G)I-DLE's SooJin?