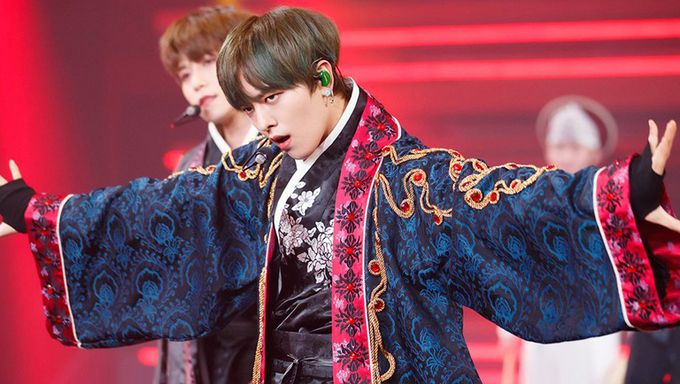 Hanbok or better known as the traditional clothes of Koreans comes in various sizes and colors. As time goes by, many designers begin to make modern versions of Hanbok to accommodate the daily needs of people these days.
It is very common to see K-Pop idols these days wearing Hanbok especially when they are doing greeting videos or for photoshoots! In lieu of Chuseok, Kpopmap has picked up various K-Pop idols and groups who look good in both traditional and modern Hanbok.
UPDATE: This article was updated on April 19, 2021.
Note: This is not a ranking.
#1 WJSN's BoNa
BoNa took the breath of her fans away when photoshoot of her wearing Hanbok was released some time ago. She looks exceptionally gorgeous and many also praised her stunning beauty.
#2 OH MY GIRL
OH MY GIRL received rounds of applause when they had performed on Mnet "Queendom" while wearing modern pieces of Hanbok. It is simple yet classy at the same time, giving them a twist to the concepts which their fans had seen.
#3 ChungHa
ChungHa looks pristine with the pearl accessories and ivory hair pieces which she had worn together with Hanbok. Many talked about how lovely and beautiful she looks!
#4 IZ*ONE's Jang WonYoung
Last year when these photos of IZ*ONE's Jang WonYoung were released, many could not help but talked about how breath taking the young idol looks in Hanbok. Especially with her holding the cotton flower, fans mentioned that she reminded many of a character from a historical drama.
#5 CLC
When CLC made their comeback with title track 'Me', fans were up for a treat as they noticed some members of CLC were wearing fusion Hanbok. The new concept and idea were interesting and they had also received positive response.
#6 CIX
It is hard to take your eyes away from these 5 gorgeous boys as they look exceptionally adorable and excited when they put on Hanbok! These photos were taken last year and many of their fans found them cute to see them in the traditional clothing.
#7 B.O.Y's Kim KookHeon
Debuting for the second time, Kim KookHeon had recently caused many of his fans to gasp when they had seen him wearing a Hanbok during a fanmeeting. He also did not forget to greet them by giving them a bow while wearing it.
#7 BTS's Jin
One of the best moments picked out by many ARMY was when Jin was wearing a Hanbok in the airport due to a punishment. Who knew that day would become one of the legendary moments for Jin as he had once again proved that he is worldwide handsome.
#8 Park JiHoon
This young idol had appeared in "Flower Crew: Joseon Marriage Agency" and ever since then, he had received lots of praises and compliments for wearing Hanbok. During his fanmeeting recently, Park JiHoon had caused his fans to fall in love with him even more with the colorful and amazing Hanbok.
#9 Golden Child's JangJun
Golden Child took busking to another level back in November 2019 and during that time, many could not help but complimented JangJun's good looks when he was wearing Hanbok. The silver and blue combination of the Hanbok along with his handsome visual was one of the best that had happened.
#10 TXT
Some may call them goofy, some may call them cute but most importantly, TXT had once again captured the hearts of their fans MOA when they were seen wearing Hanbok last year. All of them looked adorable in it and hope that this year they could see them wearing various kinds of Hanbok too!
#11 A.C.E
A.C.E has definitely caused many people to take a second look at them with their latest comeback title track 'Favorite Boys'.
In their concept photos, many could tell that they had taken it underwater while wearing gorgeous hanbok. During their live performances, they were also seen dressed in different styles and modern hanbok as well.
#12 ONEUS
If you had watched Mnet "Road To Kingdom", you would recall that when ONEUS was performing to 'Lit', they had went on stage with beautiful hanboks.
The concept of the performance was also impressive and memorable.
#13 BLACKPINK
When BLACKPINK returned with their long awaited 'How You Like That', the girls had stepped up their game when they were dressed in modernised hanboks with a twist!
Each of them were given an outfit that suits them the best and many have also been praising how the hanboks look cute and pretty.
#14 SuperM
SuperM had made their return with 'Tiger Inside' and fans love how the boys were dressed in modernised hanboks!
With the base of the hanbok being black, the golden flower embroidery could be seen clearly on several members. As for the others, they also looked good with blue and white.
#15 THE BOYZ
Another group which had put up a splendid performance during the appearance on Mnet "Road To Kingdom" is none other than THE BOYZ.
They had taken up the warrior concept traced back to the Silla Kingdom in Korea and wore outfits inspired by them.
16. ASTRO
Back in 2019, ASTRO was seen wearing hanbok when they were performing to 'All Night'. They looked like the handsome men you will meet in a historical drama!
Do you also like the lovely hanboks they wore?
17. ATEEZ
ATEEZ had also performed to 'INCEPTION' while wearing hanboks. For some reason, the blend between the strong vibe of the song and the lovely hanboks suit them really well.
18. BAE173
When the members of BAE173 covered 'Idol' from BTS, they were seen wearing hanboks just like how the original singers did!
19. BTOB
During their recent performance on Mnet "KINGDOM: LEGENDARY WAR", BTOB members were seen wearing hanboks. They had performed to an emotional version of 'Missing You'.
20. BTS
BTS had worn hanboks during their promotion of 'IDOL'. Each of them looked absolutely stunning and charming with the modernised hanboks.
21. DREAMCATCHER
The girls of DREAMCATCHER look gorgeous with their dark colored hanboks when they were promoting 'BOCA'.
22. EXO's Kai
Did you know that Kai had performed a beautiful piece of choreography during the Olympics games in 2018? With his exceptional dance skills and facial expression, many could not help but fall for him even more.
23. fromis_9
For 'Feel Good (SECRET CODE)', the girls of fromis_9 had filmed a special version for their choreography while wearing hanboks!
24. GHOST9
For their comeback with 'SEOUL', GHOST9 members looked amazing when they were dressed in hanboks. The boys showed a different side of them, allowing many to see their charms.
25. MAMAMOO
Dressed in bright red and colourful hanboks, MAMAMOO put on a powerful and dynamic performance on stage.
26. SHINee's TaeMin
During "Mnet Asian Music Awards 2020", TaeMin took over the stage with his stunning performance with an intricate and beautiful outfit inspired by hanbok.
27. VIXX
One of the earliest groups who had made use of hanbok for their performance is none other than VIXX. Who else misses this amazing era of K-Pop?
28. WEi
Boys of WEi were spotted wearing hanboks during their performance for "APAN 2020" award ceremony. We love how each of them has something different for their outfit, allowing them to stand out from one another.
29. WJSN CHOCOME
WJSN CHOCOME looks absolutely adorable with their lovely pieces of modernised hanboks! Fans love how colourful and bright they are!
Read More : The K-Pop Idol Who Tried To Run Away From His Members & Label Mates At "ISAC 2020" Seollal