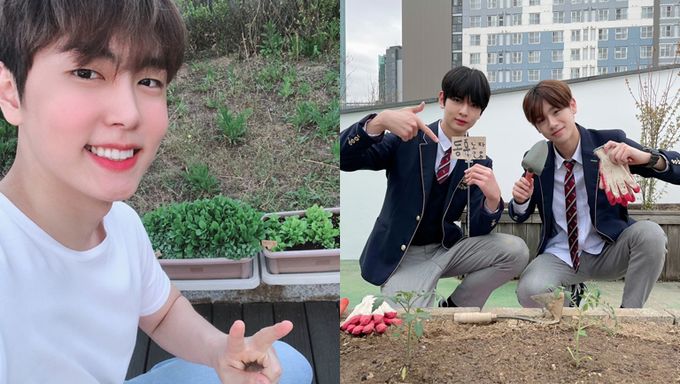 As we enter into the second year of the worldwide pandemic, K-Pop fans and idols are still unable to meet directly due to the social distancing measures. Many K-Pop idols try their best to come up with a variety of content online.
If you had already noticed, some idols made use of several platforms such as V-Live or YouTube to communicate with fans. One interesting content that Kpopmap had noticed was planting or farming!
Different idols from different groups were seen planting edibles either on the rooftop of their company or at home.
Let's take a look below!
1. NCT's TaeYong and SungChan
Making use of the space available on the rooftop of SM Entertainment, TaeYong and SungChan planted many different kinds of fruits and plants together. They look adorable while wearing a sun hat and many fans love how they also enjoyed snacks after planting them.
2. TXT's Huening Kai, SooBin, and YeonJun
The adorable trio of TXT spent their time with fans through V-Live when they had decided to plant some tomatoes!
They were goofy, lifting up the atmosphere of the V-Live session. Many fans commented that they looked like they were more interested in making the delicious snacks than actually planting the tomatoes.
JaeYoon is such a sweet and adorable person and we can tell just by how careful he was when planting the plants into the pots. Aside from this V-Live session, JaeYoon also constantly updates fans about his plants.
4. SHINee's Key
Did you know that Key had appeared on MBC "I Live Alone"? Through the show, Key showed how he has a small plot of land where he could grow different plants.
In this short clip, he was planting a wide variety of edibles such as rosemary, peppermint, and even spring onion!
5. EPEX
EPEX has yet to make their debut but they are already blessing fans with such good content. The group was split into different teams and the members took turns to plant on the rooftop of their agency.